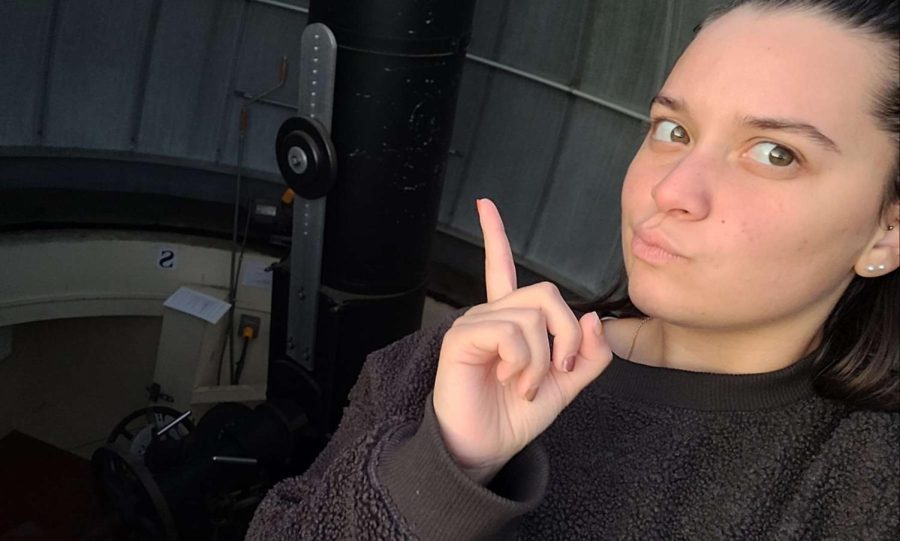 A Few of My Favorite Things with Jade Emerald Pinto '25 – The Bates Student
There's a lot that Jade Emerald Pinto '25 (she/they) could be proud of when she looks back on her year and a half so far at Bates. There are the two clubs she founded, for example, or the fact that she remains physically active as a member of the sailing team and the hip-hop team 2BEATS. There's the fact that she excels academically, with a major in physics and a minor in Asian studies, or that she spent the summer doing astronomy research at Bates. But the thing that brings the proudest smile to Pinto's face is none of that; it's the fact that last Tuesday, "we had 20 people wake up at 3 a.m. to come and see the eclipse that turned the moon red," she says.
This event was spearheaded by the current iteration of the Bates Astronomy Club, of which Pinto is a founder and president. She and her Vice President Brandon Gustavo Villalta López '25 are working to create space for astronomy nerds and curious stargazers to turn their eyes skyward. The club was born over the summer, while the couple spent the summer at Bates together studying galaxy evolution and outflow ("which is basically the energy that comes out of galaxies," Pinto explains) under the direction of Professor Aleks Diamond-Stanic.
"We both really like astronomy; that's what I plan to do after I graduate," says Pinto. But at Bates, "basically, there are only two astronomy classes"; they are integrated into the Department of Physics and Astronomy, the second half of which is often forgotten. The solution, for Pinto and López, was clear: "We need the Astronomy Club back!"
Bates had an astronomy club several years ago, but it faded when the students running it graduated. Over the past few years, Pinto says, much of the department's equipment has "gathered dust." The top floor of Carnegie Science has had an observatory for decades, "and yet there are only five people trained for it in the whole school," Pinto says. So over the summer, Pinto and López got to work "talking, like, 'Okay, how do we get a club back to Bates? How does this work?' We sent an email to Coram to find out if there were any leftover things from the last club, we spoke to teachers who are in the physics department, I was trained for the observatory. It was a lot of steps!
These steps took a lot of time and effort, but Pinto didn't let the hard work detract from the reason they run the club: a laid-back love for the beauty of the universe. A physics major who regularly watches Disney movies and an aspiring college student who enjoys the simple pleasure of lying on her back in a field with a friend gazing at the stars as much as she does astronomical calculations and lab work, they are both intelligent and gentle – and value both equally. With the clever awe of a student fascinated by the beautiful mysteries of the cosmos and the perspective and connection they can foster among simple earthlings, Pinto told us some of their favorite things about their time at Bates, their experiences with Bates Club astronomy, and the things they see when they choose to look up.
Favorite things about running the Bates Astronomy Club:
"I love outreach," says Pinto. "I like to show people that yes, astronomy is physics, but you don't have to be in physics to like astronomy. Anyone can join the club. Like, the lunar event. Everyone said, 'Well, I'm studying anthropology.' I was like, 'This is sick! Like, yes, come watch the moon with us! There is no qualification you need to sit and gaze at the moon. It's really fun to bring together a whole bunch of different people.
Favorite activity (past or planned) with the club:
The eclipse viewing was the club's first event, but more are in the works. His favorite item on the drawing board, Pinto says, is his plan to get Bates funding and a few white vans, and take the students camping and stargazing in Acadia National Park. "We also have a lot of access to telescopes that are easier to travel with, not just the huge ones at the top of Carnegie," Pinto says. "So yeah, that's the plan: go camping, take some telescopes, steal some students and, yeah, make it a weekend."
The trip will likely be "a small collaboration with the Outing Club," says Pinto. "They don't know yet."
Favorite thing to see in the sky:
Pinto is an egalitarian at heart — valuing events that non-physicist nerds can appreciate and celestial objects you don't have to be an expert to appreciate — and their favorite things in the sky are no exception. . The blood moon caused by last week's eclipse, for example, was a favorite "just because you didn't really need any equipment to see it," they say.
Their favorite constellation is Orion, for a similar reason. "I feel like Orion brings people together because everyone can see Orion," they say. Even in New York, Pinto's hometown, "when probably one of the stars is a helicopter, you can still see Orion. And it's pretty awesome. You don't need to know a constellation to see the three stars that unite Orion.
Favorite astronomy experience:
This fall, Pinto traveled with his research partner López to the SACNAS Conference on National Diversity in STEM in Puerto Rico. "That was probably my favorite thing about astronomy…being able to not only talk science with other people, but also have a powwow," she says. "From 12:00 p.m. to 1:00 p.m. you talk about all the scientific jargon, then from 1:00 p.m. to 2:00 a.m. you party and listen to Hispanic music." She and López presented some of their research and ate lots of good food.
Favorite Thanksgiving dish:
"My answer might have been different nine years ago, but now I'm a vegetarian," Pinto says. These days, "my favorite Thanksgiving dish is deviled eggs, because I can only ask my aunt to make them for me this holiday. And they are so good!
"It's like an aunt thing," Pinto says. "Don't tell my mother."
Preferred study location on campus:
"Oh damn. I get distracted so easily!" Pinto said. When it's really time to strap in, they head to an audio room on the ground floor of the Ladd Library. "I'm participating in the Disney section… I'm going to play a little Disney movie in the background," Pinto laughs. With only one seat per room, "I call the office; I get dibs. And then I do my job, and Rapunzel sings in the background. 'is good."
Favorite life lesson from the Bates Astronomy Club:
"The most important lesson I learned was not to keep yourself on the same level as people, especially from their past, but to realize that you are in the same place as them now," Pinto says. They attended an arts-focused high school, and transitioning to a STEM major at a top university often left them feeling "I like astronomy, but maybe someone knows more." than me. It can hurt your self-esteem," they admit.
But if the ever-expanding universe has taught him anything, it's that the past doesn't limit the future; there is always room to grow. "It's like I'm the president of the astronomy club now!" Pinto laughs. "It doesn't matter who took which math class in high school. We are all Batesies and we are all here.
Wherever you come from, says Pinto, the most important thing is that today "we all observe the stars together".
***
Students interested in gazing up at the sky with other happy stargazers can follow the club's Instagram page at @BatesAstronomyClub or email Pinto at [email protected]