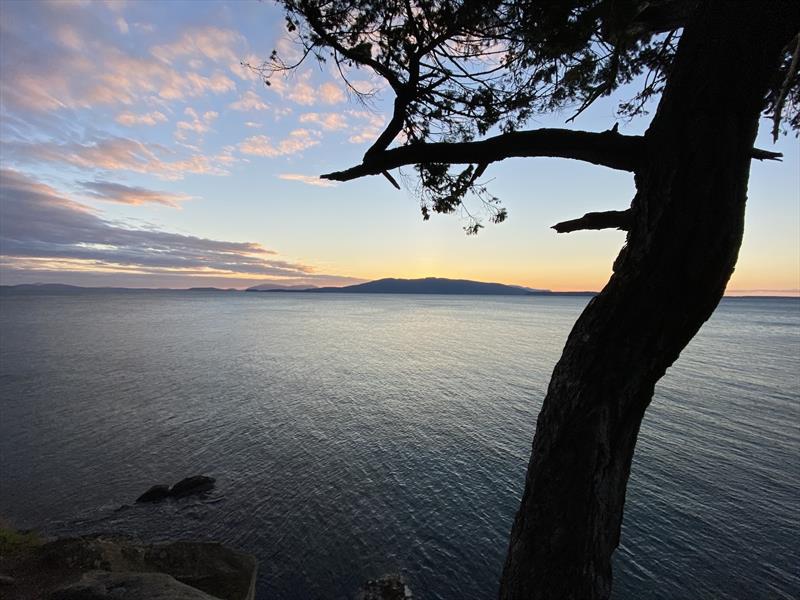 A shameful story and a warning to the world of sailing
A shameful story and a warning to the world of sailing
by David Schmidt Sep 14 08:00 PDT
September 14, 2021
View of Bellingham Bay from Clark Point © David Schmidt
When I was a kid growing up in East Coast yacht club circles, a certain level of demeanor and decorum was expected to be maintained around the YC. Often times this meant wearing ties and blazers to award events, not running around inside the clubhouse or on the docks, and generally showing good demeanor that would make her mother smile if she entertained. an unsolicited third party report. Mind you, this good behavior was mixed in with a certain catch me if you can attitude that often involved shenanigans like water balloon wars on windless junior sailing days, maybe a little too much soda. from the snack bar (read: sugar tops), or maybe an old-fashioned game of stealing your friends' stern caps.
And of course, there were the occasional instances of adults letting their behavior slide south a bit, usually when an overly generous bartender was on the premises.
But none of that even goes up close in the behavior displayed by an adult member of a yacht club in Washington State during a recent event.
For the sake of fairness to the individual, the YC and the regatta, I withhold all identifiable facts. (That said, this incident is all over the internet, so if you're a Curious George go to Google).
Here is the story, as I understand it.
In the recent past, the club organized a small but busy regional regatta. As usual, a meeting of the skippers took place on Friday evening, before the race, followed by several days of competition on the water. The club in question had relatively strong Covid-19 protocols in place, but the individual in question, who I understand to be consciously unvaccinated, refused to wear his mask during the meeting or around his crew on Saturday.
It was only after running all day Saturday that this individual revealed that his wife was at home ill with a confirmed case of Covid-19.
His crew allegedly (and wisely) staged a coup, ending this individual's regatta, but that was only the beginning of the collateral damage.
After all, he had exposed many people to Covid-19. And he himself would also test positive.
Long story short, many regatta participants including some of my friends got stuck in quarantine, the YC had to cancel events and shut down, and the individual had his YC membership and privileges suspended. until a formal meeting. with the YC board can take place (as I understand the situation, the individual is now quite sick with Covid, so provided he survives he can expect harsh judgment from the other side).
While I applaud this YC for taking this swift action, the only fate that suits this behavior is lifetime expulsion, both from YC and Organized Sailing.
Say whatever you want about vaccines and "freedom", but as one of my libertarian friends likes to say, "my right to swing my arms stops the second my hand looks at your nose".
It's fair to say that this individual has more than taken a look at some noses. It is also fair to say that his behavior falls under the category of gross negligence.
I really hope this is a unique situation in the sailing world – the story of an ignorant and socially deaf sailor, not a more serious situation of adult YC members playing cultural wars while attending at unmasked, consciously unvaccinated YC events, thinking it's sort of the 2021 equivalent of throwing water balloons at friends on a hot August day (and yes, I understand that balloons wastewater is not good for the environment, but that's another story) or to rob the bourgeois of the rival club.
Sailing is, and always has been, a great privilege. But that's probably never truer than during a pandemic that has seen many organized sports and activities forced to stop activities and socially distance themselves. We are incredibly fortunate that ours is an outdoor sport that can be played safely in the midst of a pandemic that has now claimed some 4,550,000 lives worldwide. But it goes without saying that selfish, childish and truly ignorant behavior like that of this regatta participant could potentially ruin a great thing for the rest of us.
This certainly doesn't mean that YCs and regattas have to be stuffy business that involves perfectly straight behavior at all times. But they need to be safe and welcoming environments that give people the opportunity to relax, compete on the water, and just hang out with new and old friends, without fear of quarantine or impending illness.
After all, it's about sailing, a sport that has long embraced science and technology, giving us physics-defying boats like the newly announced AC75, F50 and AC40, and, a long time ago, we helping to prove that the world is not flat.
Don't we, as a community of seafarers, behave better?
And more specifically, if YC's statutes aren't enough to stop ignorant and utterly selfish behavior, when does the Golden Rule come into effect?
May the four winds bring you home safely.
David Schmidt
North American publisher of Sail-World.com