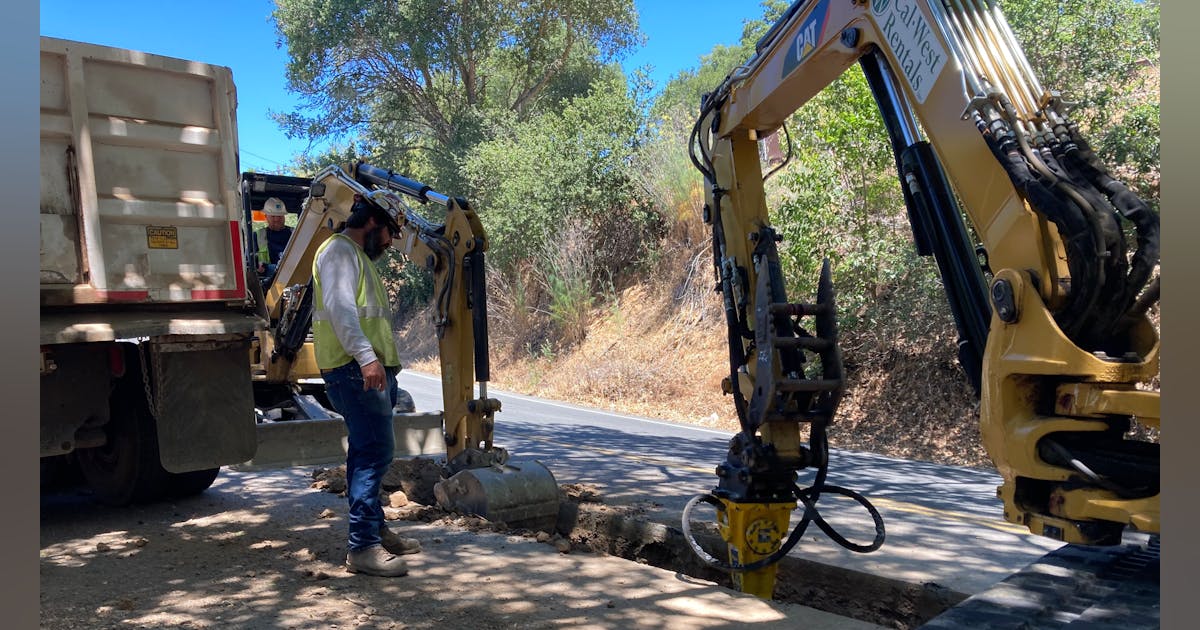 An inside look at a PG&E underground project
In severe weather, Pacific Gas and Electric Co. and other western utilities shut off power to prevent vegetation and other debris from encountering live power lines and starting a wildfire. Pacific Gas and Electric Co. (PG&E) works year-round to strengthen its system and reduce the number and impact of these public safety power outage (PSPS) events. Its system-strengthening efforts have included installing stronger and more resilient equipment, such as utility poles and conductors, and removing overhead power lines and burying them underground.
In September 2021, PG&E successfully completed the burial of nearly 4 miles of overhead power lines in Santa Rosa, California, USA. This project not only contributed to system hardening and wildfire mitigation, but also improved the reliability of approximately 11,000 customers. Residents and businesses in parts of the Rincon Valley and Oakmont neighborhoods in Santa Rosa have been impacted by multiple PSPS events over the past two years. Now that the lines serving these customers are underground, the risk of fire due to vegetation contact with overhead conductors has been mitigated and customers have not been impacted recently by PSPS events.
"By placing some of our power lines in the most fire-prone underground areas, we greatly reduce the need to impact our customers and cut their power for safety reasons during high winds and extremely dry weather events" , said Brad Koelling, head of the network. design at PG&E. "Specifically, this project helps eliminate the need for PG&E to shut off power to thousands of residents of the Rincon Valley and Oakmont community, as well as businesses and schools that are not in a district. high risk of fire."
Reduction of forest fire risk
Of PG&E's 25,000 miles (40,234 km) of overhead distribution lines, 30% pass through the highest fire hazard areas (Tier 2, Tier 3 and Zone 1) in California. These areas are called High Fire Danger Districts (HFTDs). Since the devastating October 2017 wildfires in Northern California and the 2018 Campfire, burial has become a more viable option as part of the utility's efforts to reduce wildfire risk. .
Today, PG&E is burying overhead electrical distribution lines in the town of Paradise and surrounding areas that were destroyed in the 2018 Camp Fire. Heat from the 2017 Tubbs Fire damaged underground utility electrical equipment, such as cables and transformers, in the Coffey Park neighborhood of Santa Rosa. While PG&E has replaced 22 miles (35 km) of this electrical cable, crews
built 10 miles (16 km) of a new gas main in a common trench that extended 17 miles (27 km). Several underground demonstration projects, aimed at converting overhead power lines to underground lines, have been started in PG&E HFTDs, such as in Alameda, Contra Costa, Nevada and Sonoma counties. One of the goals of the plan was to better understand the construction requirements and costs associated with landfilling.
Aerial to underground
The Santa Rosa Area Landfill Project began in April 2021. With the increased wildfire risk in the state and the growing need for PG&E to initiate PSPS events in the Rincon Valley and 'Oakmont, "time was running out," said Josh Eagar, project manager for this landfill project.
Veteran Power Infrastructure (VPI), a certified Disabled Veteran Business Enterprise contractor, carried out most of the civil works. The State's Pre-Dig Call System was notified and One-Call System site locators marked the approximate location of buried utilities with paint and flags along the route of the planned excavation .
The route was in the open along streets and sidewalks, parallel to the existing overhead power line. The trenches, dug by PG&E general construction crews, ranged in depth from 36 inches to 50 inches (914 mm to 1,270 mm) and with widths from 18 inches to 24 inches (457 mm to 610 mm).
The overhead distribution facilities were removed and four circuits, 12 kV each, were buried in 2-inch, 4-inch, and 6-inch (51 mm, 102 mm, and 152 mm) Schedule 40 PVC conduit. Some of the pole installations would remain in place to carry telecommunications equipment and service lines that supply electricity directly to residences and businesses. Summit Construction Solutions Inc. pulled the cable through the conduit.
"As with many construction projects, there have been many challenges along the way, including a rapidly approaching timeline, the acquisition of new easements, permits and rights-of-way, and construction difficulties caused by the limited space of the narrow roadway," Jesse said. Lorz, electrical distribution engineer at PG&E. "These were compounded by other utilities and substructures within the project boundaries."
"The project also required significant construction planning and coordination with a large number of stakeholders," noted project manager Eager. "Supplementing our in-house crews with contractor support was the only way to get the job done in time before wildfire season."
"Our design engineers responded to questions and concerns identified in the field in a timely manner and helped provide direction to teams while adhering to our schedule. A special thank you to our associate partners for executing the work with a fiduciary mindset on behalf of PG&E and the customers it serves," added Eagar.
Landfill also included backfilling and restoration of streets and sidewalks. Crews worked diligently to repair concrete and asphalt to meet the city's geometric street and sidewalk design standards for the pavement cut
and repair standards. In a few cases, landscaping was required.
More dungeons to come
In July 2021, PG&E announced a multi-year commitment for 10,000 miles (16,093 km) of underground distribution lines in or near HFTDs in the 70,000-square-mile (181,299 km)-plus service area of ​​the utility in northern and central California. This commitment represents the most significant effort in the
United States to underground power lines as a wildfire risk reduction measure. "Extraordinary times call for extraordinary solutions," said Patti Poppe, CEO of PG&E. The unprecedented infrastructure safety initiative will further strengthen PG&E's system, help prevent wildfires and reduce the need to shut down power.
Recognition
The author would like to thank these PG&E experts for their contribution to this article: Josh Eagar, Project Manager on T&D Project Management
team; Jesse Lorz, electrical distribution engineer on the network design team;
and Brad Koelling, Grid Design Manager.
Deanna Contreras is a Pacific Gas and Electric Co. (PG&E) media representative and spokesperson for the San Francisco Bay Area and
California North Coast. In addition to covering this story for the utility, she writes other internal and external articles about PG&E's clean energy and grid resiliency goals. Contreras lives in Santa Rosa, California.
For more information