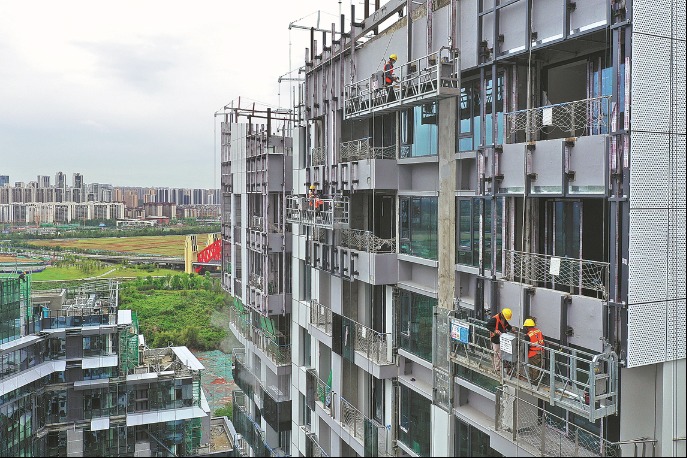 Analysts say local measures will stabilize the housing market
In the real estate sector, further steps to stabilize the market are likely at the local government level, industry analysts said Thursday.
If recent regulators' meetings are any indication, relevant authorities will likely seek to keep the real estate market developing stable and orderly by assuring buyers that demand will remain firm, they said.
Generally, statements made after important meetings convey the spirit of the central leadership, represented by the Political Bureau of the Communist Party of China Central Committee.
After the Politburo meeting on April 29, the People's Bank of China, the country's central bank, the China Banking and Insurance Regulatory Commission and the China Securities Regulatory Commission all expressed support for ensuring that the demand in the real estate market will remain firm.
The PBOC highlighted prudent financial management, optimized credit policies and prudential financing in the real estate sector.
"The central bank's emphasis on prudent financial management has two meanings: loosening credit lines a little if the market crashes; and tightening them if house prices soar. The goal is to ensure that the housing market behaves in a stable and healthy way in the medium to long term," said Li Yujia, senior researcher at the provincial residential policy research center of Guangdong province.
The CBIRC said it had asked commercial banks and insurers to ensure that the principle that "housing is for living in, not for speculation" is strictly adhered to, that first-time home buyers and demand for improved quality of life are supported, and personal mortgage repayment schedules are adjusted flexibly for those affected by COVID-19.
While emphasizing support for rational demand for housing purchases, the CBIRC for the first time distinguished project risk from business risk, indicating that it is keen to minimize risk through legal and focused solutions. in the market, Li said.
The CSRC said it would actively support the demand for reasonable financing from real estate businesses and extend real estate investment trusts or REITs, which are currently being tested, to infrastructure projects.
"Statements by the central bank and financial regulators on the real estate sector adhered to the spirit of the meeting, and they showed that relevant government departments are continuously promoting stability in the real estate market through financial means," said Yan Yuejin, director of the Shanghai-based agency. E-house China Research and Development Institution.
"They have systematically and thoroughly summarized various financial requirements related to property, so we can expect better progress in financial policies in the real estate market from this month," Yan said.
More than 85 cities have eased their housing market regulations as of April 29. Their measures include easing restrictions on purchases, increased lending limits, eased selling restrictions, lower down payments and interest rate cuts on home loans, all lending aids for lending funds benefits and more, according to data from the Zhuge Real Estate Data Research Center.
"Since the meeting of the Political Bureau of the CPC Central Committee called for more refined real estate market policies, we believe that more cities will follow in a bid to encourage rational demand for home purchases and boost confidence. market," said Wang Xiaoqiang, chief analyst at Zhuge. Real Estate Data Search Center.
The meeting highlighted efforts to ensure that no systemic risk emerges and reiterated the principle that "housing is for living in, not speculation". Efforts should be made to improve housing policies according to local market dynamics and meet a firm demand for quality housing, he said.