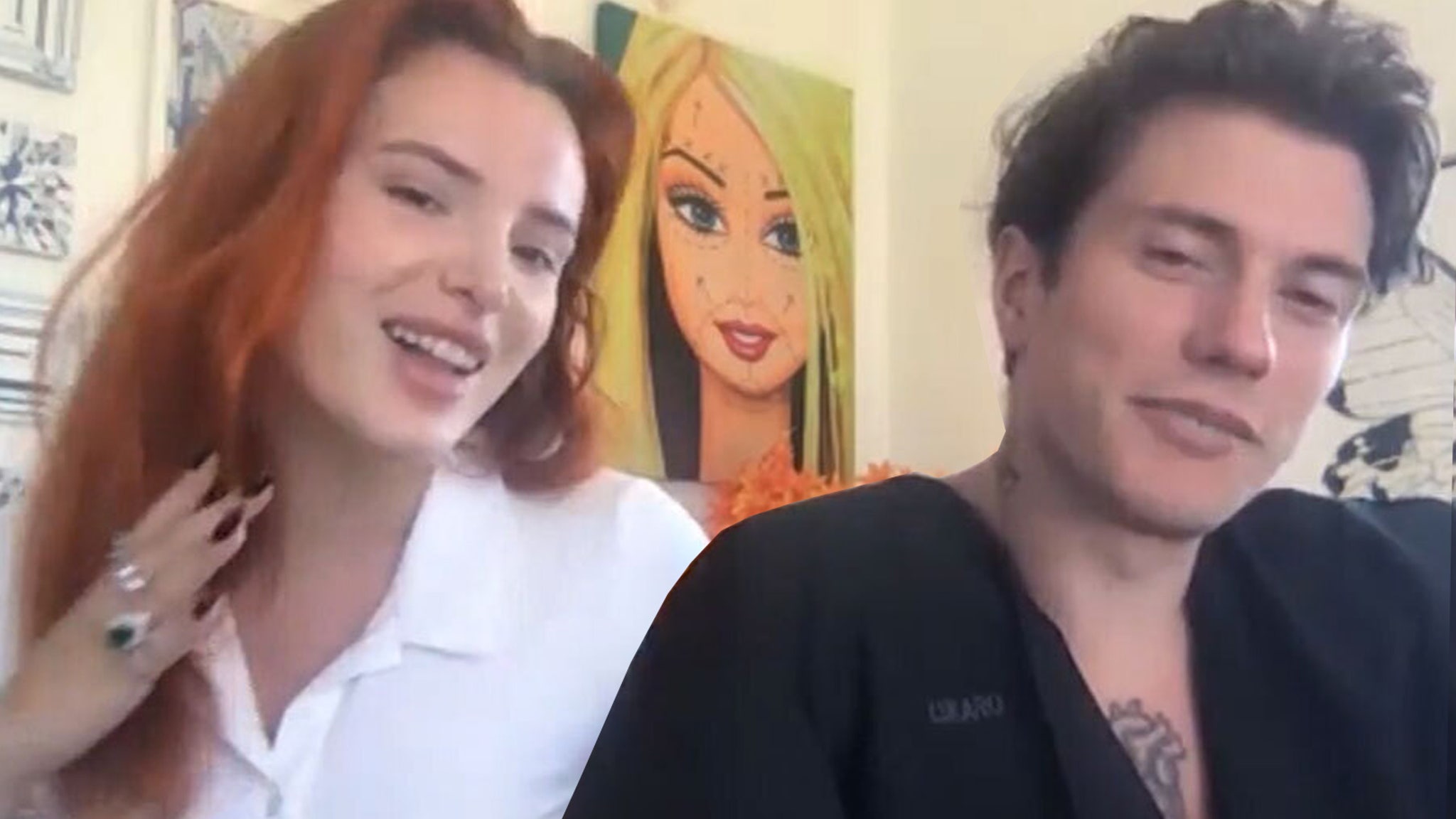 Bella Thorne and Benjamin Mascolo fell even more in love, filming time is over
The couple talked about working together on the new film, her surprise proposal on set, their Italian wedding plans, and her dreamy Frozen-inspired dress.
Bella Thorne and her fiance Benjamin Mascolo play doomed lovers in the gorgeous new drama "Time Is Up" and working on the project has become a major influence in their own relationship.
As a young, passionate physics student, Vivien de Bella falls in love with Benjamin's struggling swimmer Roy. The couple find solace in each other in unexpected encounters, until a tragic accident and a case of forgotten memory threaten to tear them apart.
Bella Thorne Teases Engagement Announcement With Emoji Post Diamond Ring

See the story
While the couple in the film must overcome challenges to be together, Bella and Benjamin found their own relationship to be easily strengthened during filming. Not only did they get the chance to collaborate on one of the songs featured in the movie, but Benjamin actually asked Bella the question in the last take.
TooFab caught up with the gorgeous couple to discuss the movie, the surprise engagement, where they want to get married, what Bella will wear, and even their plans to start a family!
Did you discuss working on a project before you embarked on "Time is Up?" "
Benjamin: We have a great relationship as in our private life, we are like best friends. And also, she's my future wife so we share so much that it wasn't like we were really talking about doing a project together but we didn't know where to start and it's a good thing we started the movie , because she is such an amazing actress, so she really helped me a lot when I was first on set.
And also the movie has a song that we did together, so it really touches my world too, you know, I'm from music, so it's great. I mean it couldn't be a better way to start our projects together.
Was there any hesitation in working together on such an intense film, especially as a new couple?
Bella: Usually, playing with someone for the first time and being the protagonist of the movie is so difficult for anyone and so rare that it even happens. So, entering it, I had no idea what it would look like. I just trusted Ben. And he did such a good job and always was so surprising to me because I know how hard it is to act – I've been doing this all my life – and he was natural from the start and it takes a lot. time to learn in this industry.
We never argued the whole shoot, like there never was a problem again, so it was really smooth sailing, all the time, which was great because you never know. I've also never worked with anyone I've dated. So to me, I was like, 'I don't know.' But it was great.
How does it feel to have this project tied to your own love story, like a time capsule for your relationship?
Benjamin: It's great. Even think about the future and have a memory that feels like a movie. And we can also show our children in the future.
It's wonderful to have that as a stepping stone in our relationship and we fell even more in love with this movie because we didn't know – going into the movie, we didn't know how you would go the way we – – – this is the first time we've worked together, and so many hours a day, we have a lot of stress and a lot of responsibilities, and we got down to it, so we went out to the other side and we were stronger than a couple, it was win-win on everything.
Bella: And the last take of the movie while we were doing outdoor covers – for the outdoor locations – Ben asked me to marry him in the last take so it's really a real one – like, it's our love in a movie. Yes.
Benjamin: I knew it was the last take, like the movie was over and I was just re-doing the scene and in the middle I took a letter out of my pocket and started reading it to him, so this was interesting, it was fun.
Were you taken by surprise when he asked the question, Bella?
Bella: Oh yeah, everything took me by surprise. It was a full experience and he was also shooting his documentary at the time so there are so many cameras on that moment he asked me and it's amazing. We just saw his documentary the other day, one of the cuts of it, and seeing it in there and not having it on my phone – having it like completely there – it's amazing and I am so excited.
Have you started planning the wedding?
Benjamin: Yeah, it's gonna be a great wedding. We want to do it here in Los Angeles and also in Italy. We think of Lake Como because we love Lake Como. There is a lot of preparation behind it, so we have already started. We still don't have an exact date as we are working on it, but hopefully next year when the time is right. Plus, we have a lot of work to do in our career, so we've just tried to adapt it to a time when we have time to enjoy it.
Getty
Former Disney Channel stars who have faded or drifted away from the network

See the story
As you mentioned having this time capsule for your kids, are you planning to start a family soon?
Benjamin: Yeah, I mean, not in the short term, I think because we still have a lot of things to do, but we were so open to that. We want to have children. So it will be soon but not immediately like.
Bella: I just know that for the Los Angeles wedding, I want it to be a wedding in the snow, so my dress has to look like a shit-like "ice sculpture, queen, princess in the snow". So we'll see.
"Time is Up" is available on digital platforms and on VOD on September 24th.
Waiting for your permission to load Instagram media.