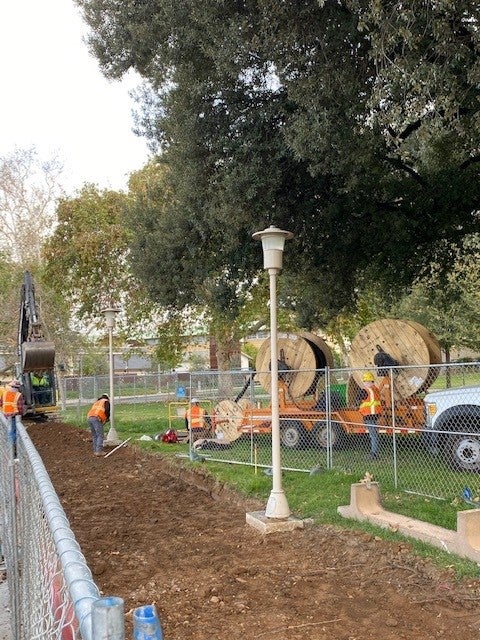 Campus power system gets a boost
UC Riverside's electrical system is being upgraded.
An electrical infrastructure project that has been underway for more than a year will provide the campus with more reliability, capacity and security, said Drew Hecht, director of project management for the Office of Planning, Development and construction.
"This is a huge step forward for the campus – reducing the power outages we've had in the past," he said.
For decades, the campus has relied on a single substation located in parking lot 30 to provide electricity, which is provided by Riverside Public Utilities. A single outage of part of the system leaves the entire campus vulnerable to an outage, Hecht said.
The upgrades are part of a series of improvements across campus over the past year and will continue, he said. The scope will increase as funding becomes available, said John Franklin, project manager in the Office of Planning, Development and Construction.
Improvements include new electrical transformers; conduit and wiring to support new equipment; and replacing old electrical switches with new ones that have greater power capacity.
The new power switches will give the campus more control and flexibility to redirect power so isolated issues are less likely to cause outages, Hecht said. If a switch or electrical circuit fails, the campus can redirect power through different lines, he said. The improvements will limit disruption in smaller, isolated areas, Hecht said.
A crucial part of the project involved relocating old electrical switches to a small substation building just yards from Route 60 – where a single accident could shut down the system. These were moved underground while the conductor lines that ran under the highway were replaced with new ones to increase capacity and reliability.
Replacing old, worn cable lines will increase electrical capacity by up to 30 percent, Franklin said.
He likened aging equipment to water pipes that clog over time and reduce the flow of water through a home. The new cables will allow electricity to flow more easily and efficiently, he said.
"We're putting miles of cable in the ground right now," Franklin said.
Some isolated electrical shutdowns were required during the work, although backup generators minimize interruptions where possible, Hecht said. Planning, design and construction worked with facilities departments and the contractor to provide advance notice of closures, hold briefings and keep outages as short as possible, he said.
"We are working with campus stakeholders to ensure that we plan for these closures with their input to minimize impacts," Hecht said.
Additional closures will be coordinated with the campus as needed, he said.
In the long term, the campus hopes a connection to a second substation will become available so it has two independent power supplies, although that goal is still in the conceptual stage, Hecht said.