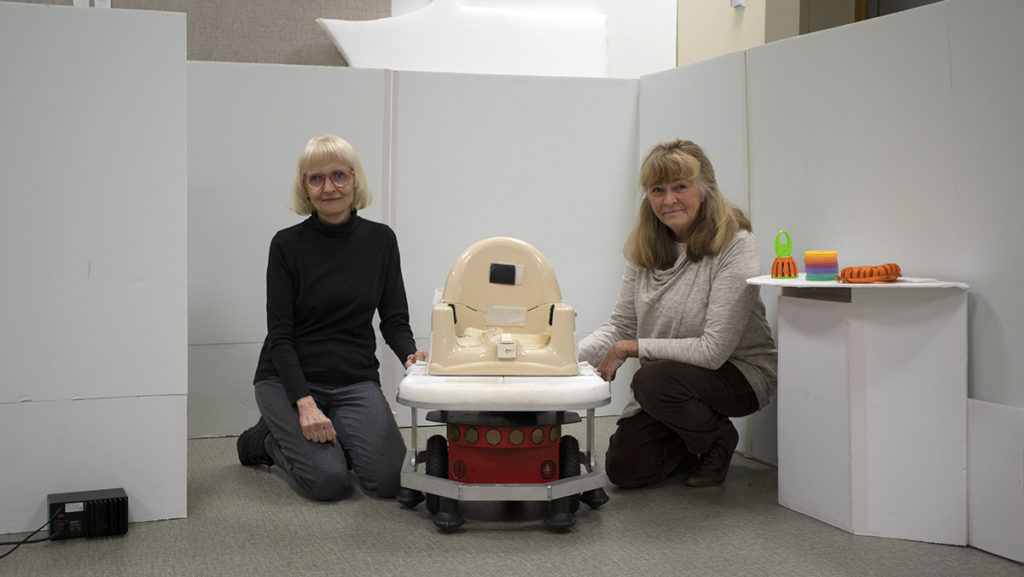 College founds tech company to bring mobility to kids
Current and former Ithaca College faculty members founded a company called Moving support to research, build and distribute technology in hopes of bringing mobility to young children with reduced mobility disabled.
Carole Dennis, co-founder of Assistance in Motion and professor emeritus in the Department of Occupational Therapy (OT), and Sharon Stansfield, the other co-founder and professor in the Department of Computer Science, began their research at the college in 2001, with a grant from the National Science Foundation (NSF), to fill the void they noticed in mobility aids for motorized infants and toddlers disabled. Dennis said the research team has also included more than 60 students over the years.
Dennis said the technology that already exists to help infants and toddlers was joystick operated and she wanted to make something more accessible. She said infants and toddlers often lack the ability to use gamepads, especially motorized children. disabledmaking current robotic solutions ineffective.
"Kids learn so much from… exploration," Dennis said. "[The inaccessibility] just frustrated me as an occupational therapist. … It would make sense, we think, for children [with disabilities] to have mobility from the start of babies' normal development.
Dennis said their solution is the WeeBot, a hands-free robot that infants and toddlers can sit on and control with small changes to the seat. She said that because the robot doesn't require a switch or gamepad, children can reach objects and interact with people when using it. Babies as young as five months old can control the WeeBot, and once children learn to use it, Dennis said the movements increase dramatically.
"Our motivation is to help these children," Dennis said. "They can control the world they live in through their mobility. [Otherwise] children with disabilities… sit pretty much in the same place, and the world comes to them.
According to Centers for Disaster Control and Preventionthe most common form of engine disability is cerebral palsy, which affects up to 0.4% – or about one in 345 people – of children. According to University of Melbourneother engine disabled that can affect children include spinal cord injury, muscular dystrophy and spina bifida.
Dennis said other faculty at the college have been involved in the research from the earliest stages, including Julie Dorsey, professor and chair of the Department of Occupational Therapy. Dorsey said her eldest child, who was nine months old in the fall of 2009, was the first child to test the WeeBot.
"[Dennis] I knew I had a small one and asked if I would be willing to bring it in for testing," Dorsey said. "As a parent bringing a child… [I remember] to be really impressed with how the students participated in the research, even at the beginning.
Dorsey said he learned from researchers how infants explore their environment and how to make learning accessible.
"It was really impressive to see the students and their level of commitment to research," Dorsey said. "Everyone has to be flexible and creative."
Madeline Smith '10 began working on research with Stansfield in the summer of 2009 through an NSF–funded internship while completing her undergraduate studies in computer science.
« Get involved in research in Ithaca [College] totally changed the direction of my life," Smith said. "Seeing that I could use my technical computer skills on projects that could help people…was really exciting for me."
Smith said she was part of a research team with two other students, where they did background research, literature reviews, and brainstormed and tested solutions for the Weebot.
"It was really a collaborative project… understanding the problem and the technology," Smith said. "As a group, we came up with the concept to test different control methods."
Smith said the WeeBot's training system was inspired by the Wii balance boarda platform capable of detecting weight changes when connected to Wii games.
"One of the students said, 'I think the Wii Board could do everything [the movements]'…that's how we started with a research prototype,' Dennis said. "We could not have completed our research without the support of the students.
In 2019, Dennis and Stansfield asked Chuck Schwerin, general manager of business services for Tompkins County Area Development, to be their business mentor. The two professors formed the company, Assistance in Motion, in January 2020 and Dennis said she retired from college at the end of 2020.
Dennis said there were issues with the initial prototype, such as affordability and accessibility. The robot worked, but it cost $1,300 to assemble a robot, and Dennis said their goal was to make the robot financially accessible to families. The robot also got stuck in corners and was difficult to transport due to its size.
Dennis said they needed a second prototype, which requires additional funding. Between 2001 and 2020, Dennis and Stansfield received over $700,000 in grants from the NSF, Cornell I-Corps, and the New York Physical Therapy Association. Their most recent grant was from the NSF for $256,000, which will be used to fund the new WeeBot prototype.
"[The college] was very supportive of the research, especially between grants, when the project might have stopped," Stansfield said.
Dennis said the next steps for Assistance in Motion involve meeting with engineers and other qualified professionals to complement Dennis and Stansfield's skills. Stansfield said once they have a better prototype, they will either sell the robots themselves or find another organization to sell them.
"We're in it until it looks like it's getting to the kids who need it," Stansfield said. "That was the whole point from the start."