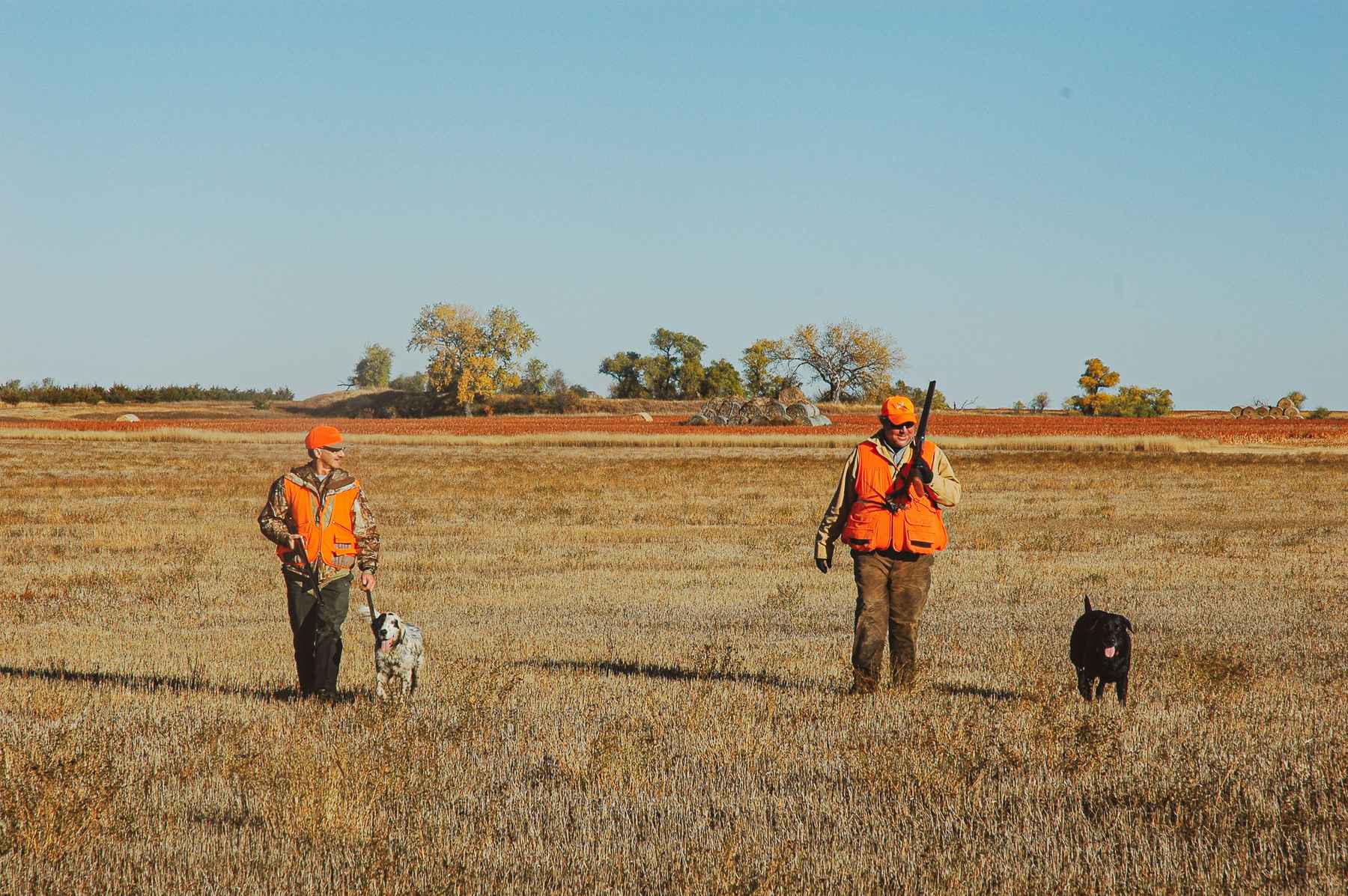 Confessions of a mixed bag hunter | Outbreak Magazine
Tornadoes and blizzards are a fact of life on the plains. Normally, however, they do not occur at the same time of year. And none of these "weather events" typically occur in early October – which a few years ago was when I drove the long drive through the heart of the nation to the Idaho, home (or so I was promised) of some of the most diverse bird hunting that our country has to offer. As a longtime fanatic, I was as helpless to turn down this opportunity as any other junkie when the carrot of his favorite score hangs on.
Fortunately, I managed to dodge the tornadoes, one of which grazed much of Wayne, Nebraska, in the northeastern part of the state. I wasn't so lucky with the blizzard, alas, that I hit about 70 miles west of Valentine. I was driving on dry pavement thinking "It's not that bad"… and then, in about two minutes, I was in a whiteout. It was the same freak storm – Atlas, it was called – that dumped four feet of snow on the Black Hills and killed thousands of cattle in western South Dakota.
I figured I could crawl into Gordon, where I was told there were a few motels, to be disillusioned with that notion when a large orange object turned into a blocking Schneider National jacknife semi-trailer both lanes of Highway 20 At that point I turned around and headed back to Valentine, where I was able to secure a room at the Super 8 before it filled up with other refugees .
After cracking a beer and switching channels for a while, I opted for a made-for-television film about the tragic short life of pneumatic tabloid star Anna Nicole Smith, a film notable primarily for Martin's presence. Landau in the role of her. wheelchair oil mogul husband (to whom she cared deeply, needless to say). Meanwhile, the weather rose so fiercely that the idea of ​​crossing the street to McDonald's wasn't an idea, so I opened another beer and settled for my emergency ration of cheese, sausage and Wheat Thins. I took Tina, my English setter, outside to do her business but she quickly got out of it, no more in the mood to linger in these withering conditions than I was.
A day and a half later, we finally arrived in Idaho where, for the record, I bagged five species of birds: ruffed grouse and sharp-tailed grouse, valley quail and Hungarian partridge. . The black grouse and the valley quail were firsts for me, and while I hoped the chukars for a chance as well, the one covey we moved let us down. Tina pointed to precisely where my friend Shawn Wayment (aka the Bird Dog Doc) saw them, but they had obviously done what the chukars are doing and fled, blending into the incredibly fractured, almost lunar landscape. Tina literally threw away her pads trying to find them, but after four days of relentless hunting on this relentless terrain, they were already in pretty rough condition.
One day I also came across a good sized shed of a Shiras moose and even managed, with some difficulty, to drag it down the mountain. Shawn and his brother Andy were amazed at this find, but it can only be included with an asterisk as part of the general bag. I would have much preferred to kill a chukar or, for that matter, more anything. As stated we did well in terms of variety but quantity wise it was brutally difficult sledding. There was a lot of walking between the hot flashes, most of them steep and at altitude, and by the time I turned the car to drive home, I was a wreck both physically and emotionally.
But that's the risk you run when you become a mixed junkie. Sometimes you have a bad trip, man.
---
Ultimately, I blame Milt Dodds. Milt was a contemporary of my father and he was the greatest road hunter you have ever seen. It wasn't that he hated walking; what went against his grain was doing it to specification. If we saw a few roosters sailing from a cornfield to a weed pull, Milt would be the first to get out of the car. But if someone suggested stomping on a piece of blanket just because it "looked good," they could piece together a dozen reasons why it was a bad idea.
Milt had turned road hunting into an art form. He was still sitting in the backseat with the kid (that would be me) while Dad or Pete Macfarlane drove, and at the approved rural speed of 30-35 miles an hour, nothing exceeded him, including the band of Bobwhite quail gathered in December. afternoon on a south-facing, sun-heated sea wall in the Loess Hills of western Iowa.
"There is a covey'a quail!" Milt cried, stiffening like a dog on the point. I swiveled to catch a glimpse of them, plump as pears, nicely arranged on the pale winter grass. These were the first quail I had ever seen in the flesh, and while the sighting alone was a thrill, the possibility that we could actually take one was almost more than I could handle.
For the record, one is precisely the number we collected, despite great cooperation from the birds. "Man!" exclaimed Milt, shaking his head as he ripped the shells out of his Model 12. "It's like trying to shoot down a buzz bomb!"
A few miles down the road, a rooster pheasant made the mistake of poking its screaming head out of the goldenrod – and Milt was on him like a stench on a skunk. Driving the rooster back to the car, he observed, "Compared to those quails, he looked like a B-52! "
It wasn't much, as mixed bags go, but it was enough to leave me hopelessly hooked – and I've been looking to score ever since. The first time we added Hungarian partridge to a bag of late season pheasants and quail from Iowa, it remains one of the most satisfying hunts of my life. I actually did a Milt Dodds and spotted the Huns from the road, but it took two hot flashes and almost a mile of ankle-deep wet snow before I could draw blood. I doubt Milt would have lasted beyond the first flush.
---
Yet the most unusual and irreplaceable 'mixed day' in Iowa, as the British call it, was when Terry Barker and I were hunting near the farm where he had grown up in the central part of the State. We hit a few roosters pretty quickly as they burst into flames on the cut corn; then Willie, Terry's wonderful English setter, nailed a bunch of quails right into a shallow, rumbling heather ditch. The survivors more or less burst into flames right away, and when Willie locked himself in again, Terry expected a single. Instead, he kicked and quickly sent a big woodcock – at the time, only the second woodcock I had seen in Iowa state.
Later that same morning, as I worked the spongy margins of a draw that wandered between the shoulders of a plucked cornfield, I noticed, "It looks like a hellish place for snipe." The words had barely left my mouth when, as if at the right time, one of them blushed, barking and squealing, 30 yards away. At 45 yards, a semi-miraculous shot from your minion knocked him down.
I don't expect to see this particular bag again, although over the years the snipe has likely played the role of "bonus bird", turning ordinary days into mixed days, more often than any other species of bird. my knowledge. I hunt them every now and then while hunting woodcock in muddy canopy, sometimes not realizing which species I am looking at until the bird is outside. By the time I've missed both barrels I'm usually able to make a positive identification
During the years that I lived in Door County, the slender peninsula known as the "thumb" of Wisconsin, I came to think of a certain public hunting area, Mud Lake, as my blanket " House ". Most of it was impenetrable, a swamp of cedar and larch swamp that plunged you down to your thighs, but there were also good bird edges, places where the ground loosely rose and a forgotten farmer long ago had cleared some forty rocks for cultivated land.
On a cold October day, I met my great friend Andy Cook there for a late afternoon hunt. At that time I had Emmylou, who was so formidable on the woodcock it was almost unfair, and it wasn't long before Andy and I had both pulled the woodcock on its stylish tips and arguably . Then Popper, Andy's radiant yellow lab, sprouted a grouse from a dense cedar grove. I heard Andy scream "Grouse! Just in time to catch a glimpse of the bird as it passed through the only opening that gave me a clear view. I managed to give him a good swing too, probably because I didn't have time to think.
Arrived at a place where a narrow spring-fed stream winds through a meadow strewn with tufts of swamp grass, I suggested to Andy that he and Popper check out the snipe there. Several large chinook salmon, fish that had come up Lake Michigan, stood in the current, water covering their broad backs. I turned to Andy to comment on this when he yelled "Snipe!" Come to you!
No kidding: the snipe, resembling a dart with wings, gave me the bewildering impression she intended to impale me. I was about to dodge, in fact, when he veered hard to the left, only to be intercepted by a charge of # 8.
Andy walked over, opened his Ruger o / u and held out a beefy hand. "Congratulations, sir," he said. "You just won the Mud Lake Grand Slam. "
---
Of course, the classic American mixed bag is the ruffed grouse and woodcock, those birds that are poles apart in every way – even in the way they present themselves on the table – and therefore beautifully complementary. There was a time when you could almost take it for granted, but in those days of grouse poverty, not so much.
Huns and sharptails on the high plains are another classic couple. I never remember not bagging both species on the days I had the privilege of hunting behind Ben Williams' pack of pointers and Bretons, though the memory that makes me smile the most is the time in North Dakota when, after a damn good sharptail-hun hunt on a hot september day, tom ness and john mcmahon relaxed in lawn chairs, sucked gin-tonics and criticized my knife skills while i cleaned all the birds. I must note here that I did this from my
free will, having learned through an unpleasant experience that in this crowd cleaning the birds myself was the only way to ensure that they would be fit for future consumption.
A few times I've been lucky enough to add a sage grouse to a bag of Huns and Pointy Tails, but bringing one of these mighty birds to hand is such an important event that it tends to overshadow everything that happens that day.
There were bobwhite quail and blue (scaly) quail in the spines of West Texas, prairie chickens and sharp-tailed grouse in the prairies of South Dakota. Sometimes the pheasants there too, although by the time the pheasant season opens, the prairie birds have acquired this annoying habit of hunting in the wild.
The habit of mixed bags that I picked up as a child proved impossible to eliminate, half a century later, I continue to follow them, powerless to resist.