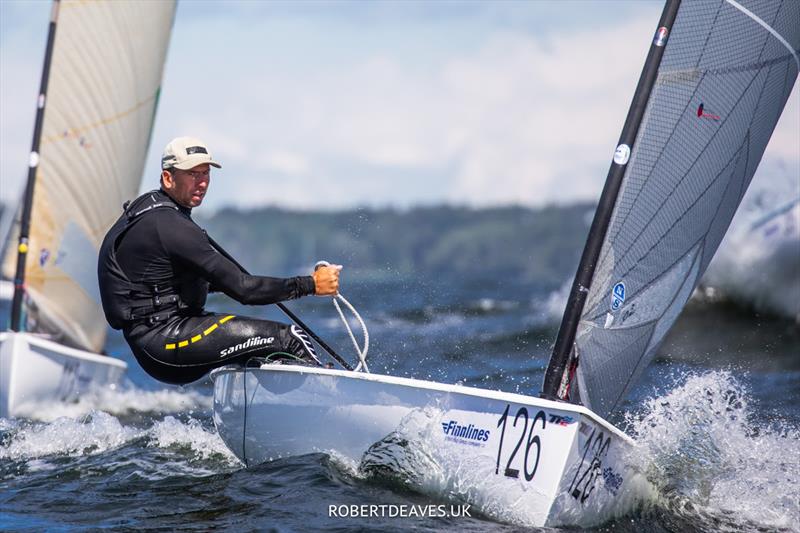 Finn World Masters 2022 in Helsinki, Finland
Finn World Masters 2022 in Helsinki, Finland – Day 3
by Robert Deaves Jul 7 05:24 UTC
July 1-8, 2022

Racing resumed at the Finn World Masters in Helsinki, Finland, after Tuesday's loss due to high winds. Pieter-Jan Postma of the Netherlands again cemented his authority over the fleet with two confident race wins to extend his lead over Laurent Hay of France and Peter Peet of the Netherlands.
Early forecasts indicated strong winds during the day, but once the fleet arrived on the course, the wind moderated to 12-16 knots, despite fairly rough seas, which made the race quite difficult for some. However, it turned into a great day afloat with two great races.
Right after the start of each race, Postma was in the lead and made his two wins easy. Behind him, the fight was on for the other places with all the other age categories wide open. Laurent Hay took the best of the rest with two third places to stay second overall, while Peter Peet scored a 2.6 to stay third. Postma leads the Masters category and overall standings with four straight wins.
In the other categories, Laurent Hay leads the Grandmasters, John Greenwood leads the Great Grandmasters, while Hans Fatzer leads the Legends.
Britain's Richard Hart, who leads the Super Legends, got the loudest applause at tonight's annual Masters dinner and midweek awards ceremony, held at Nyländska Jaktklubben (NJK) on the island of Blekholmen, off the city of Helsinki. He received a standing ovation from the entire fleet.
No midweek award show is complete without Henk's Hour, an award show hosted by Dutch sailor Henk de Jager in his own inimitable style. He presented the various prizes to the leaders of the category.
Halfway through this championship, the sailors had a bit of everything, light winds, strong winds and too much wind. The rest of the week promises to be under a light to moderate wind.
Four former world champions joined the rest of the fleet tonight at the traditional Masters dinner. The current Postma world champion was joined by Magnus Olin of Sweden (1975), Thomas Schmid of Germany (1988) and Sebastien Godefroid of Belgium (2001). Almost all the Masters attended this very special occasion. The races continue until Friday.

Results after Day 3: (top 10, 4 races)
1 NED 842 Pieter Jan Postma 4pts
2 FRA 75 Laurent Hay 10pts
3 NED 148 Peter Peet 18pts
4 POR 21 Filipe Silva 37pts
5 NZL 111 Karl Purdie 41pts
6 GBR 5 John Greenwood 48pts
7 FIN 234 City Aalto-Setälä 58pts
8 NED 29 Bas De Waal 70pts
9 NED 80 Willems Sander 74pts
10 SWE 12 Stefan Sandahl 74pts
Full results available here.
Event website at fwm2022.com