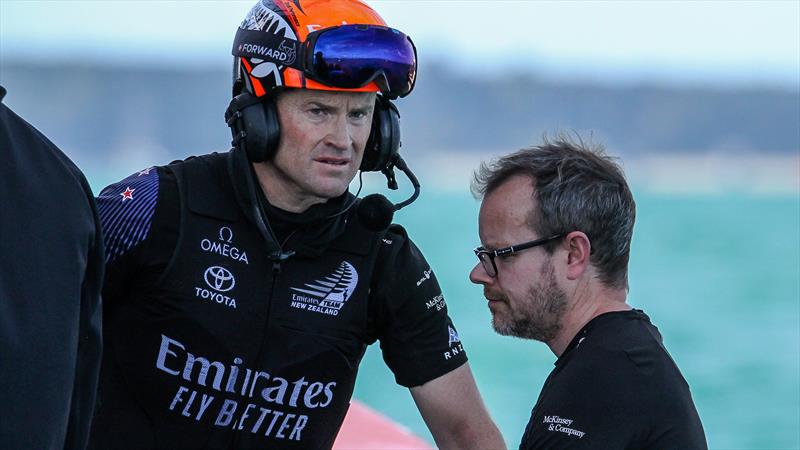 Glenn Ashby joins Emirates Team New Zealand
[ad_1]
America's Cup: Glenn Ashby opens its doors to Emirates Team New Zealand
by Shirley Robertson Aug 31 10:51 PM PDT
September 1, 2021
Glenn Ashby has an in-race chat with Emirates Team New Zealand chief design officer Dan Bernasconi – two days before ETNZ defends the America's Cup – March 15, 2021 © Richard Gladwell / Sail-World.com / nz
Shirley Robertson chats with one of the most influential sailors of the modern America's Cup era as she interviews Australian Glenn Ashby, in this two-part podcast below.

An integral part of Emirates Team New Zealand, Ashby has just won her third America's Cup and spoke to Robertson after celebrating the team's successful defense in March 2021.
Like many of Robertson's guests, in Part One Ashby reveals that his early days in sailing saw him working in a sail loft, having left school at the age of sixteen, but that he was already made a name on the water. Growing up sailing a lake in Bendigo, Victoria, Ashby's first time sailing the sea was at age eleven, in a regatta that saw him become junior state champion. From there, only a potential career as a motorcyclist would prevent young Ashby from becoming a professional sailor – motorsport lost the battle, for teenager Ashby, Europe was calling …:
"There was a French man, I heard a bang bang bang on the window, he was throwing stones in the street to wake me up … and I went down to the boat park and the whole fleet was gone, my boat was the only boat on the beach with the tarp. If I hadn't done this race, I would have lost the regatta! "
This admission from Ashby during his first regatta victory at the Class A World Championships in 1996. He went on to win nine more Class A world titles, three Formula 18 world titles and three Tornado world titles. His ability to navigate fast cats quickly saw him claim a place at the Olympics where in 2008 he won a silver medal in the outgoing Tornado class with fellow Aussie Darren Bundock.
Inevitably Robertson and Ashby turned to the America's Cup discussion which itself was starting to take an interest in multihulls for the Deed of Gift Match 2010. Once decided, Ashby's inclusion was inevitable. After joining BMW Oracle for the 2010 edition, Ashby then began a career with Emirates Team New Zealand, as they sought to win the 34th America's Cup in San Francisco. What followed for Ashby was a three-Cup campaign with one of the most successful teams of the modern era, but as Ashby reveals, after the crushing loss to San Francisco things could have been very different.
"Sitting in the boardroom with seven or eight people making a decision, with Dalts saying 'it's up to you guys, are we closing the doors, or are we keeping them open, what are we doing? "The brutal reality of the doors of a team that had been around for 20 years or so, of having to be part of this decision-making process to close the doors after being so close, it didn't feel right to me."
And as Ashby reveals, the comeback has begun. It's a revealing conversation, as Glenn talks about the "blank sheet of paper" that saw Emirates Team New Zealand ultimately win the 35th America's Cup in Bermuda. It's an inspiring story told by one of the pivotal members of the team.
Robertson's interview with Ashby is a fascinating discussion, taking a behind-the-scenes look at some of the most talked-about Cup moments of the modern era, from the attempt to keep the AC72's foils a secret before San Francisco to the buyout at the Bermuda and the AC36's foiling monohulls, all told firsthand by one of the true pioneers of modern sailing.
Support the show – www.buymeacoffee.com/sailingpodcast
Part 1
Part 2
[ad_2]