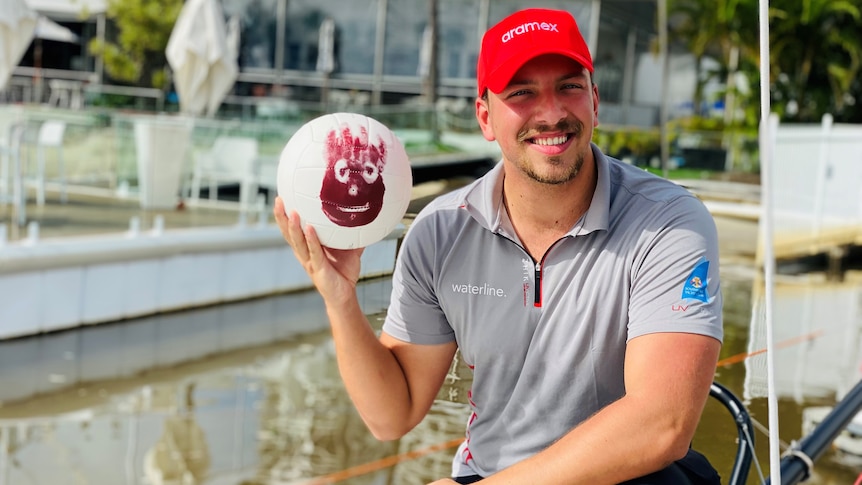 Gold Coast sailor Xavier Doerr will attempt a solo circumnavigation around Australia
Gold Coast sailor Xavier Doerr plans to break the world record for single-handed, non-stop circumnavigation of Australia when he sets sail at the end of the month.
Key points:
Xavier Doerr aims to break Australia's fastest solo, non-stop circumnavigation record
Sailor Lisa Blair set the 58-day record in December 2018
The 21-year-old plans to leave the Gold Coast on May 29
The 21-year-old has been sailing since the age of 12 and has invested $140,000 in his attempt to break a Guinness World Record.
"I've done two Sydneys in Hobarts and I want to get into solo sailing and racing around the world and that's really the launch pad for me."
The fastest single-handed, non-stop circumnavigation of the globe record in a monohull is 58 days, set by Sydney-based sailor Lisa Blair in December 2018.
Doerr aims to complete the same trip in 50 days.
"I go counter-clockwise to use the most preferable weather systems," he said.
Sleep deprivation will be a huge challenge for the sailor who plans to sleep in 15-minute blocks to avoid collisions with other vessels and floating debris.
Doerr says that while pirates, huge seas and breakages are all potential risks, loneliness will be one of his biggest challenges.
He packs a "Wilson" volleyball, which was made famous as Tom Hanks' sidekick in the 2000 film, Cast Away.
"For lack of better company, Wilson will be my companion," he said.
Her 6.5 meter monohull is one of three such boats in Australia.
Doerr said the yacht has been designed to handle all weather conditions, including the six-meter swells that could be encountered in the Antarctic Ocean.
"I chose this boat because it is one of the fastest carbon fiber boats downwind," he said.
"I'm looking to break a record and I'm doing it in a machine that is capable of it."
Pink the color of loners
The 21ft yacht is bright pink, the color used by many solo sailors including Jessica Watson who came to international attention at the age of 16 when she became the youngest person to sail solo, non-stop around the world in 2010.
Doerr said he met Watson but did not discuss his record attempt with her.
"While I was training in my last boat, I was offshore and I regularly saw Jessica Watson training for the filming of her Netflix documentary," he said.
"While they were filming this, I'm over there cruising on my boat watching."
He plans to leave the Gold Coast on May 29.