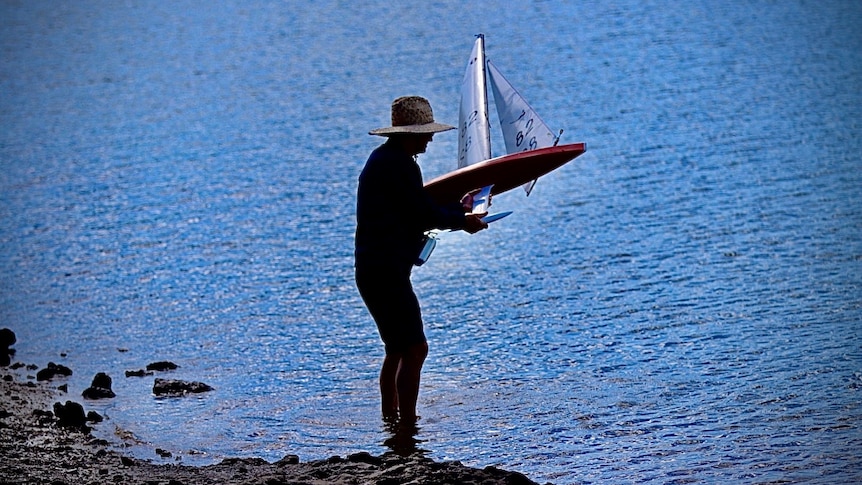 How the Wynnum Manly Radio Model Yacht Club is Curing a Sailing Addiction for Many Boaters
Nearly two dozen yachts – white sails spread and flapping in the breeze – race back and forth on a day of sparkling blue skies at Manly Harbor in Brisbane.
Passers-by, especially children, stop in awe of the action.
"Oh look at that one," a little boy says to his parents.
"I like red and orange," he adds.
This is no ordinary yacht race.
This is because ordinary yachts are way too big for this event.
It is a race of miniature radio-controlled yachts, the largest of which is about one meter long.
Life-size boats and cruisers, moored in the harbor, serve as a backdrop for the debates.
Boaters, mostly men over 60 with a passion for boating, line the shore, wide-eyed as they maneuver the rudders and sails via remote control.
"It's just a lot of fun – using all your experience, not getting wet, racing all the other guys," said Wynnum Manly Radio Model Yacht Club (WMRMYC) Commodore Russell Gray.
"The jokes are fantastic. We have a session once in a while on why old men are grumpy – they should do this!"
how it started
It all started when two men decided to sail their model yachts around Wynnum Paddling Pool in the late 1980s.
A club formed in 1996 and since then it has become a passion for a growing number of people.
Eduard (Eddie) Cowell is one of the first two sailors to have started at Wynnum Wading Pool. He now has a race named after him – a three-day international event, held in Kawana.
"The Eddie Cowell Perpetual Trophy! It's pretty flattering to be honest," he said.
Eddie's love for sailing began at the age of 13, when Australia won the America's Cup in 1983.
But he would never reach the open sea as he had hoped, because a few years later his life changed irrevocably.
"I had a diving accident – a diving accident at home," Eddie said.
"I jumped off a fence into a shallow pool when I was 17."
"I'm a quadriplegic. It was terrible, but you get used to it and I've made the most of my life."
Despite the accident, Eddie's fascination with sailing never wavered. When he saw a display of model ships at the supermarket, he decided to sue it.
"I thought it was something I could get into. I tried to find one and found a guy in Toowoomba who would make them," he said.
"We just started sailing on a Monday morning and more and more people were walking past us and saying, 'Where did you get that?'"
"So it just grew, and now they have world titles, they have state titles — all kinds of things."
Unlike the other members of the club, whom Eddie affectionately calls 'able-bodied' (able-bodied), he cannot run to shore to check how his yacht is tracking or even use both hands to operate his radio control.
"I can't use my fingers. I have a control that does the winch and the rudder," he said.
"It's quite difficult. The 'valid' cannot do it. They are surprised that I can do it," he added, laughing.
"It's the only sport I can compete against able-bodied people – being disabled."
Eddie has won numerous events over the years, from North Queensland to New South Wales.
"In my youth, I did. I'm not as competitive as I used to be. Now I do it more for social reasons," he said.
A cure for sailing addiction
There are many sailors like him.
Andrew Wilson has been sailing since the age of five.
"When my dad built my first boat on our kitchen table," he said.
He has competed in some of Australia's biggest ocean races – Sydney Hobart, Brisbane to Gladstone, Fremantle to Bali.
"If you're really serious about offshore racing, you have to prepare for very little sleep. You have to train and adapt your mind and body to sleeping 15 minutes an hour – brutal diets like this. here – in addition to being cold and hungry," he says.
"I found out after a year or two that it wasn't for me."
However, there was no cure for his sailing addiction.
"There's a lot of satisfaction in sailing alone. You have a lot of time to reflect and a lot of time to relax and enjoy nature," he said.
"But a lot of people like the competition and it's a low cost competition where you can still be with a bunch of buddies – laugh and play."
The threat of club closure
It was Andrew's expertise that was called upon a few years ago when a complaint – the club's first in 25 years – threatened to shut them down.
A boat owner claimed lines from the club's signal buoys could get tangled in the propellers and cause an accident.
"We were told we couldn't navigate here any longer and I was looking around at the members here – many of them well over 80 – and one or two had tears of blood in their eyes," he said.
"I wasn't happy about that so I went off and had a chat with a friend of mine who is very good at electronics and I said 'can we do buoys without an anchor? ""
Turns out they could.
"It's two little motors. There's a GPS, an accelerometer and a gyroscope in that little package. The GPS drives it to the location and when you tell it to stop, it stops and stays on it. "
Not only did the invention mean that the model yacht could continue to cruise in Manly Harbour, there is now offshore interest and orders for motorized GPS-equipped buoys.
A 'Men's Shed' on the water
Russell Gray and his wife spent three years sailing the Queensland coast and learned so much during that time that he wanted to pass on his knowledge.
The club now offers a 10-week course in model sailing ships.
"It's like a 'Men's Shed' on the water," he said.
"The 'Men's Shed' is a meeting place for old people. It teaches you how to use tools and that. We teach people how to sail or how to get better at sailing."
Grant McDuling is a recent graduate.
After a career in the navy, he thought he knew enough about boats, but found there was a lot more to learn.
"At first I thought there wasn't much to do – turn the rudder to port or starboard, but a lot of this course was about the physics of sailing, wind direction… and how to balance your boat," he said.
"Then, of course, there's a lot about the rules of the race. It's not just about getting to the end first."
His wife bought him his first radio-controlled yacht for his birthday in February, and while he's still working on winning his first race, Grant sees big things on the horizon.
"I see another yacht coming," he said with a laugh.
"You know, they say whoever has the most toys wins!"
If you have an interesting story to tell, we would love to hear from you. Email: [email protected]