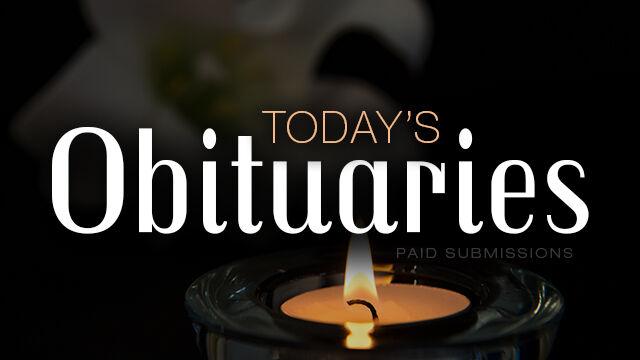 In memoriam: Funeral notice, December 12, 2021 | Obituary
[ad_1]
BURNS, Major Richard Stephen,
September 20, 1936 – November 26, 2021
Richard Stephen Burns, MSNE, MBA, 85, passed away on November 26, 2021 in Colorado Springs, Colorado.
Richard was born September 20, 1936 in Newark, New Jersey, the son of Louis John and Margaret (Finnegan) Burns. He spent his early years in Nutley, NJ. In 1940, his family moved to Washington, DC. Growing up, he attended Catholic schools: Nativity Grammar School; St. John's College High School (Class of 1955); and the Catholic University of America with a BA in Aeronautical Engineering (BAE class of 1959). After graduating, he was appointed an officer and began his 21-year career in the Air Force.
During his service in the Air Force, he obtained both a Master of Science in Nuclear Engineering (MSNE) and an MBA. His notable assignments included his work as a technical director at the Air Force Weapons Laboratory where, in the late 1960s, at the height of the Cold War, he oversaw underground nuclear testing in Nevada. He also served five years at the Pentagon's National Military Command Center, conducting nuclear weapons studies for military planning. He would later recall watching from his Pentagon window the expansion of Arlington National Cemetery during the Vietnamese conflict. His final years of service were at Wright-Patterson Air Force Base as a project officer, during which time the engineering team he was a part of developed the depleted uranium bullet, which is used to date, in the ground attack A-10 aircraft. He retired from the Air Force in 1980. During his career in the Air Force, he received numerous awards and decorations, including the Meritorious Service Medal, the Joint Service Commendation Medal and the Air Force Commendation Medal.
After Richard's retirement from the Air Force, he moved to Oak Ridge, Tennessee, where he worked for seventeen years at the Oak Ridge National Lab and Martin Marietta Energy Systems. During these years he worked as a project manager in various programs including gas centrifugation program, hazardous waste cleanup and safety analysis engineering. He retired in 1997.
In 1964, Richard married the love of his life Margaret Louise Devany, starting a partnership that would last 44 years until his death in 2008. It was a chance meeting when Richard was stationed at the base's radar school. aerial view of Keesler and that Margaret came to visit her sister. who was married to a good friend of Richard's. They were still delighted with the extraordinary circumstances of an Air Force officer from Washington, DC, meeting a nurse from New York in Biloxi, Mississippi. Together, they raised two sons, handled numerous Air Force moves, enjoyed traveling together, and strived to put their Catholic faith into action.
Richard's Catholic faith was at the heart of his life; he was a committed Catholic who supported many Church and community projects throughout his life. From 1974 to 1980, while a member of St. Agnes Catholic Church in Dayton, Ohio, he and his wife were active volunteers at Dismas House, a formerly institutionalized mentally ill adults project.
In 1985, Richard assembled a team of volunteers and coordinated with a dozen local churches to establish the Oak Ridge Ulster Project, which later expanded to become the East Tennessee Ulster Project. Under the direction of Richard and the direction of Canon Kerry Waterstone of the Church of Ireland, the project hosted groups of teenagers, half Catholic and half Protestant, from Northern Ireland for a month-long stay in Oak Ridge. Today, 35 years later, the annual visits continue to foster positive relationships, communication skills and social engagement that improve the lives of these young people and their Irish communities.
After their retirement, Richard and Margaret moved to Tucson, Arizona, where they continued their volunteer service. Richard and his wife worked to bring Café Justo (the Just Coffee Project) to St. Francis Cabrini Catholic Church. This project supports a sustainable cooperative of rural coffee producers in Chiapas, Mexico.
Richard was also a pro-life supporter and dedicated a lot of time and energy to many organizations, including volunteering at the Reachout Women's Center in Tucson. Among other efforts, he founded a program that supported men who were partners of women with unintended pregnancies.
Throughout his life Richard enjoyed singing and was a regular member of the choir both in church and in the communities where he lived. Room.
Richard liked to stay active and travel. He was widely known as an avid cyclist wherever he worked. He expressed his enthusiasm for cycling in traffic in New York as much as he loved rural roads and trails. After the death of his wife, he made extensive cycling trips across the United States, Europe and Japan. He has also cycled and hiked the Camino de Santiago in Spain on several occasions and loved to inspire others to do the same. In 1979, he accomplished a lifetime goal by running in the Boston Marathon.
Richard was predeceased by his wife, Margaret Louise Devany Burns; granddaughter, Stephanie Marie Burns (1965); brother, Louis John Burns Jr .; sister, Paula Sue (Burns) Barnes and parents, Louis and Margaret Burns. He is survived by his sons, LTC Christopher J. Burns (United States, retired), (Dawn Catherine Burns) and Kevin Devany Burns MD; grandchildren, Megan Elizabeth, Sarah Anne and Nicholas Andrew; and many nieces and nephews.
Services will take place on Friday, December 17, 2021, at 12:30 p.m. Visit, 1:30 p.m. Rosary, 2:00 p.m. Funeral Mass followed by a reception at the Holy Apostles Catholic Church, 4925 N. Carefree Cir, Colorado Springs, CO 80917 The Funeral Mass will be broadcast on the Catholic Church of the Holy Apostles: https://www.youtube.com/c/HolyApostlesCatholicChurch/videos
He will be buried with his wife and daughter in Tucson, Arizona. Funeral services will be on Monday December 27, 2021 at 11:00 am at Holy Hope Cemetery, 3555 N. Oracle Rd., Tucson, AZ, 85705. Arrangements made by THE SPRINGS FUNERAL SERVICES – NORTH.
[ad_2]