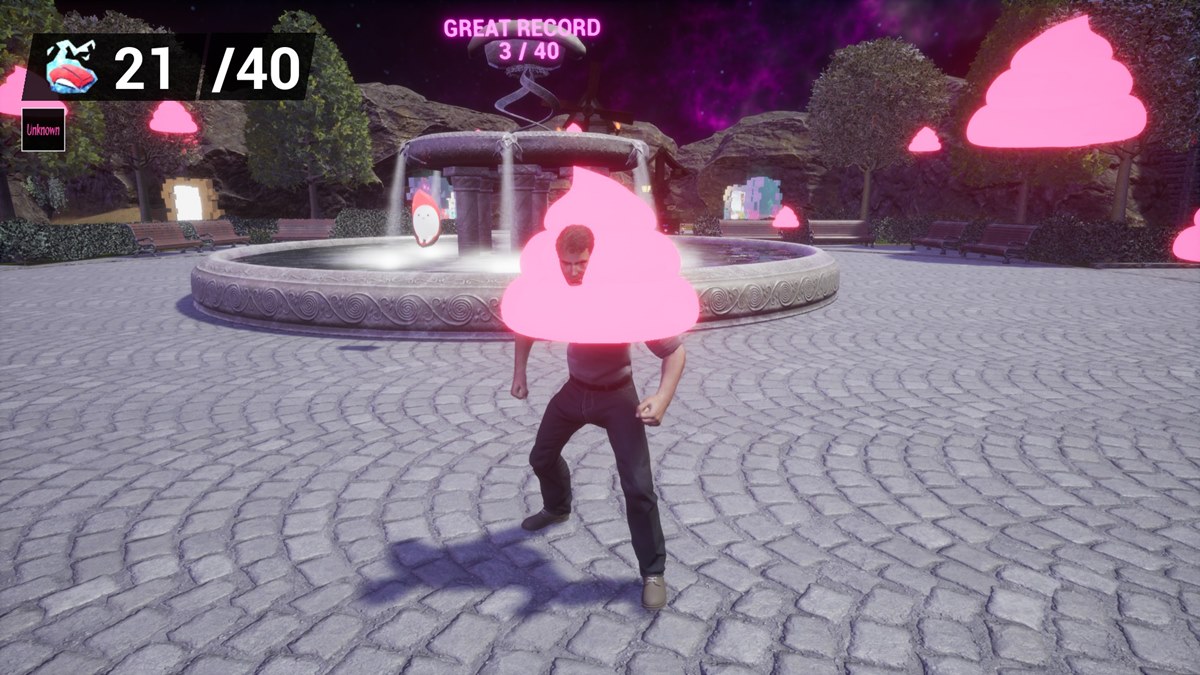 Infinitely spawning poo feature causes issues in Japanese indie game
Written by. Nick Mosier based on the original Japanese article (original article publication date: 2022-07-02 17:09 JST)
Japanese indie game developer Tadasumen has released an update for their game I'm going to die if I don't eat sushi! June 30 (JST). The patch notes just said, "removed physics calculations from poo", which seemed to cause all sorts of issues. In order to find out more about these particular issues, we contacted Tadasumen.
I'm going to die if I don't eat sushi! is a PC action game developed by Tadasumen. Players control a man who must continuously eat sushi or he will die. Each stage has the goal of eating a certain amount of sushi, eating a specific type of sushi, or reaching the goal, which players must do while eating sushi scatter on the floor to avoid their sushi gauge does not run out. But unlike the odd setting, gamers praised the game for its tense action.
A free version of the game was first released on December 29, with the paid Steam version launching on June 22 this year. The Steam version supports multiple languages, online leaderboards, and a number of other Steam features. Additionally, both versions have been updated with new content and the true ending of the game. To date, the Steam version has received 30 user reviews and stands at 100% "Positive". That said, you'd think it was nothing more than smooth sailing for I'm going to die if I don't eat sushi!.
Stage break poo
However, a strange bug has been discovered. The "poo" component in the game had issues. In I'm going to die if I don't eat sushi!, there are abilities called "Jump Skills" that can be purchased with in-game currency collected. These include handy abilities such as a mid-air dash and the ability to immediately land on the ground. There is also a hidden jump skill called "UNKOWN" which gives players the ability to spawn infinite poo. When pressing the jump button again while jumping, "poo", or rather, bright pink cartoon poop will appear where the player's head is. It was these pink poo bits that were causing unexpected problems for players and Tadasumen.
We spoke with Tadasumen about everything from the types of bugs the poop was causing to why they added secret poop in the first place. According to them, the bugs were caused by "poop being treated the same as the player character by the game." This allowed players to use poop to gain an unfair advantage, which is a bigger issue considering the game has online leaderboards.
For example, if you left poo at the start of a stage and continued to the next, your stage score and completed stage conditions would remain intact for that next stage. This would make it easier to achieve quick clear times in difficult stages. While this is a fun use for a double fecal body, it's ultimately a problem that can't be overlooked.
Quickly solve the problem
And with an update on June 30, the poo issues were fixed. When we asked Tadasumen why they added an infinite-spawn poo feature in the first place, they simply replied, "because I thought it would be funny". And when asked why they gave the poop physics calculations, they said, "I thought it would be funny to see the poo rolling around." Sometimes even something added with the best of intentions can cause unforeseen problems.
The discovery of the bug and the search for its cause can be attributed to Japanese speedrunner Nore139, which is known for running games like WEEER simulator. Nore139 is the one who noticed that poop has the same properties as the player character and investigated whether he can eat sushi or not. But as odd as the poo behaved, it at least seems like it wasn't able to eat food. For Nore139's contributions, they were commemorated on the in-game poo statue.
Although added to be humorous, the poo had to be quickly changed to avoid any unexpected behavior. But thanks to Tadasumen's quick response, players can now safely drop poop at will.
I'm going to die if I don't eat sushi! is now available on Steam for $3.99. A free version of the game can be downloaded from Tadasumen's personal website kusoi.site. The latest version of Tadasumen A game that saves muscles caught in the ceiling of the gym is also available on Steam for $1.99, with a free version available via STAND.