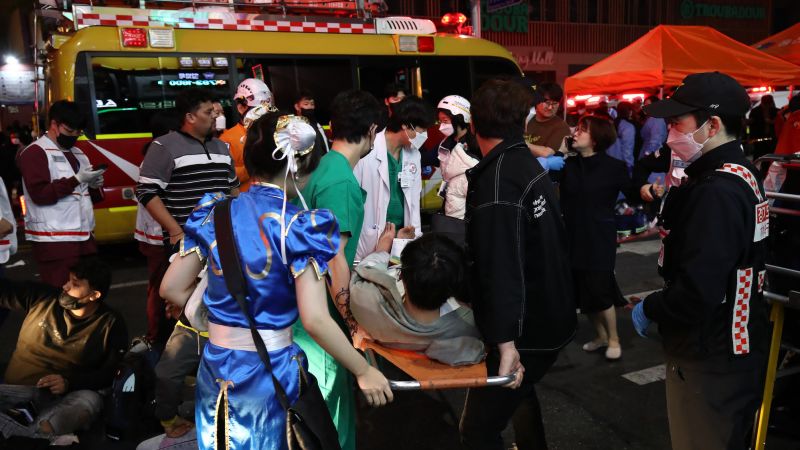 Live Updates: At Least 151 Dead in Seoul Halloween Incident
World leaders have sent condolences and messages of support to South Korea after an apparent crowds killed at least 149 people in the Itaewon district of Seoul during Halloween parties.
Philip Seth Goldberg, US Ambassador to South Korea since 2022, tweeted in English and Korean: "I am devastated by the tragic loss of life in Itaewon last night. Please know that my thoughts, and those of our team at the U.S. Embassy in Seoul, are with the Korean people and especially the loved ones of those who perished, as well as the many injured in this catastrophic incident.
British Prime Minister Rishi Sunak tweeted: "Our hearts go out to those currently responding and to all South Koreans at this very distressing time."
"France is by your side," President Emmanuel Macron said, tweeting in French and Korean.
German Chancellor Olaf Scholz tweeted: "The tragic events in Seoul come as a shock to all of us. Our thoughts are with the many victims and their families. It's a sad day for South Korea. Germany is on their side.
Canadian Prime Minister Justin Trudeau tweeted: "On behalf of Canadians, today I send my deepest condolences to the people of South Korea, following a deadly stampede in Seoul. I am thinking of everyone affected by this tragedy and wish a speedy and full recovery to those who have been injured.
The Australian government has also sent messages of support.
"Our sincere condolences to all those affected by this terrible tragedy," said the Prime Minister Anthony Albanian tweeted.
The Australian Embassy in Seoul said it was "urgently investigating" with local authorities to determine if any Australians were involved.
European Union foreign policy chief Josep Borrell said: "Deeply saddened by the terrible events in central Seoul. What was supposed to be a celebration turned into a tragedy with so many young victims. We stand with the people of the Republic of Korea at this difficult time."