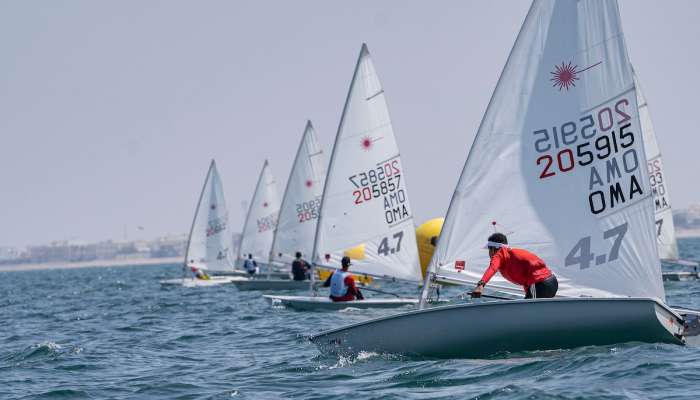 Strong Omani team set for 11th GCC Sailing Championships in Kuwait
Muscat: Sixteen of Oman Sail's best young hopefuls will face off sailors from across the region at the 11th GCC Sailing Championship taking place from March 22 to 26, 2022 at Messilah Beach in Kuwait. The Omani team includes sailors under 17 in the Optimist, ILCA 4, ILCA 6 and ILCA 7 categories, all of which obtained their place in the team by finishing in the first places of a recent ranking race held in Mussanah.
The Omani team includes: Tameem Suleiman Al Balushi (Optimist), Abdul Latif Zeyad Al Qasmi (Optimist), Hassen Nasser Al Wahaibi (Optimist), Feras Haitham Al Nabhani (Optimist), Alaa Hassan Al Hinae (Optimist), Hood Saad Al Nofali (Optimist), AbdulRahman Khalid Al Hadi (Optimist), Aous Maher Al Busaidi (Optimist), Elyas Bader Al Fadhly (ILCA 4), Nebras Ahmed Al Owaisi (ILCA 4), Al Salim Ali Al Hamdani (ILCA 4), Ahmed Hassan Al Bulushi (ILCA 6), Zakariya Suleiman Al Wahabi (ILCA 6), Musaab Mohaed Al Hadi (ILCA 7), Abdulmalik Gharib Al Hinae (ILCA 7) and Al Moutasem Hamood Al Farsi (ILCA 7).
The sailors will be joined by Nawaf Yaqood Al Ghadani (Team leader), Sultan AbdulAziz Al Zadjali (Optimist Coach), Muthir Issa Al Kindi (ILCA 4 Coach) and Hashim Hamed Al Hashmi (ILCA 6 and ILCA 7 trainer).
Nawaf Yaqoob Al Ghadani, team leader from Oman, said: "This is a great opportunity for our rising stars to compete against the best young sailors in the region. It allows everyone sailor a chance to gain experience in high level competition, how to handle pressure and practice the technique we worked on in training. We have a strong team and we are looking forward to the championships in Kuwait.
Sultan AbdulAziz Al Zadjali, Optimist Coach, said: "The GCC Sailing Championship is a milestone on the journey to becoming an elite sailor. All who represent Oman earned his place by excelling in the ranking races and we hope for a good performance during the week. Every day is a new opportunity to improve, to learn from the day before and helping sailors reach their potential while enjoying the feeling of competition."
Abdulmalik Gharib Al Hinai, a member of the ILCA 7 fleet en route to the event, said: "I am looking forward to the opportunity in Kuwait. We have all trained very well in the construction to the event and feel well prepared. The GCC Sailing Championships present a good chance to see how we compare to sailors our age in the region, to learn from each other, make friends and take the next step in our development as sailors.
For four days, sailors from Bahrain, Kuwait, Saudi Arabia, Qatar and the United Arab Emirates Emirates and the Oman Sail team will fight to position themselves in the races that take place each day before the fleet separates for the final day when the medals will be decided. In total, 12 races are scheduled for each class, except the Optimist class where a maximum of nine will take place. An overall prize will be awarded to the most successful nation in the Championships.