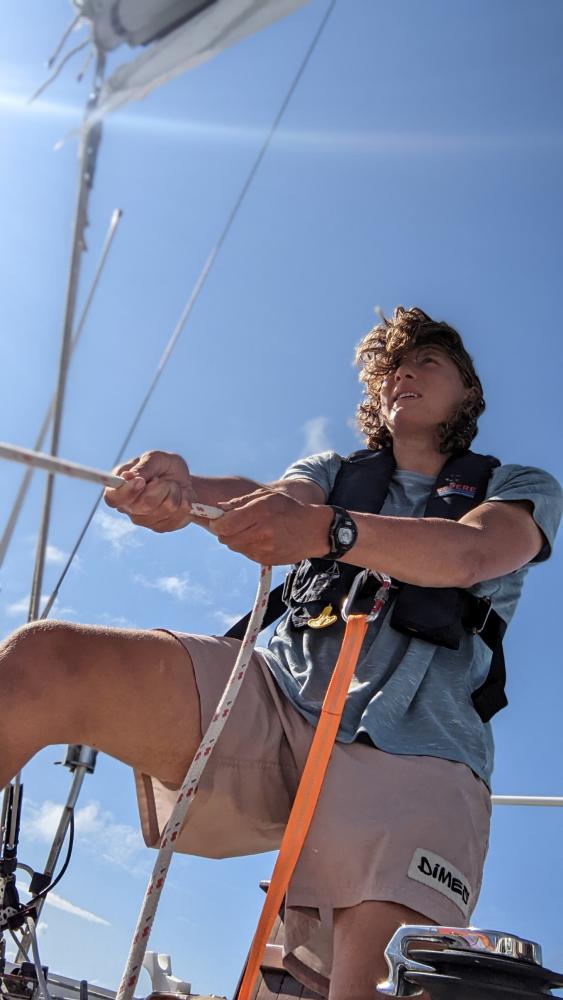 Teenage sailor returns after smooth Atlantic crossing
MARION – After spending 28 days in solitude on the high seas, 16-year-old Cal Currier has returned to shore with full company.
Since docking in Lagos, Portugal, Currier has appeared on the Today Show, reunited with loved ones in Marion and Duxbury, and returned to Palo Alto, Calif., just in time to start his freshman year of high school.
Currier took off from the port of Marion on June 27. Marion has meaning for the California teenager, who spent every summer there with his grandparents, Tinker and Bill Saltonstall, and attended Tabor Camp.
"I don't think I've ever spent a summer in California," he laughed.
Currier only learned to sail earlier this year, but he has worked hard, taking sailing lessons every weekend, and he credits his parents' trust in him for a large part of his journey.
"Not many parents would let their kids do that," he said. But his family knew exactly what Currier was getting into.
His father grew up on racing dinghies and sailed the Pacific and Atlantic oceans in his twenties. And his grandfather, Saltonstall, was co-founder of the Buzzards Bay Regatta and crossed the Atlantic twice.
The Currier family believe Cal may be the youngest person to sail the Atlantic alone. Currier's father, James, noted that it was difficult to be completely sure, as the Guinness Book of World Records told him they did not want to encourage anyone under the age of 16 to make the trip.
Currier described the experience of seeing his family again after a month alone at sea as "surreal". He said everyday tended to blur while he was at sea, and his biggest struggle was dealing with his boredom.
Even though he brought dense high fantasy novels, such as "The Hobbit" and "The Lord of the Rings", he finished them quickly and spent a lot of time looking over water.
It didn't matter because, for Currier, it was all about enjoying the trip.
"The funny thing about this trip is that it was never meant or intended to be fun," he said. "It was meant to be meaningful, so the knowledge I was getting was my favorite thing about it."
Currier said the voyage was uneventful except for the last three days when he frequently hoisted and lowered the sails due to changing winds. But at no time was he worried or scared, he said.
His boat, the Argo, held up so well that the day after it landed he said "could have gone again". Currier raised the funds for the boat himself by teaching physics lessons and seeking sponsorships.
Currier is already tentatively planning his next trip, a trip across the Mediterranean Sea next summer.
"I think all kids should try to do really cool things," he said, adding that being a kid is the time in your life when you don't have so many responsibilities. "There are so many options. You can climb mountains or take long walks. There are so many things to do in your life other than spending time on Tiktok.