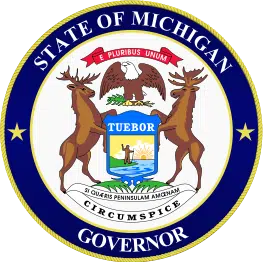 Whitmer announces grants for three UP communities
[ad_1]
Governor Whitmer announced more than $ 15 million in grants under the MI Clean Water Plan that will help Michigan communities strengthen drinking water infrastructure and better ensure safe, clean tap water statewide.
The township of Marquette, the township of Ishpeming and Calumet are the only UP recipients.
"We need to make sure Michigan communities have the support they need to protect our state's unparalleled freshwater resources," said Michigan Governor Gretchen Whitmer. "As we celebrate Lake Appreciation Month, we are proud to announce grants under our MI Clean Water plan that will help local communities invest in their aging water infrastructure and donate to every family in our state access to safe and clean tap water. "
Funding of more than $ 15 million announced last month will contribute to the state's overall efforts to support local projects that improve water supply systems through works, including replacing service lines in lead, improving water accessibility plans and connecting homes with contaminated drinking water wells to the community water supply. "These grants are a prime example of how EGLE is partnering with community water supply systems to protect the health of residents and our state's water resources by strengthening critical systems," said Liesl Clark, Director of EGLE. "More than half of EGLE's budget goes to communities to protect the environment and public health through innovative partnerships such as those supported under the Mi Clean Water plan.
The MI Clean Water Plan is a landmark $ 500 million investment announced by Governor Gretchen Whitmer in October to rebuild the state's water infrastructure to provide clean, affordable water to Michigan residents through investments in communities.
It copes with the major infrastructure issues that Michigan faces, such as lead-laden water pipes, toxic contamination like per- and polyfluoroalkyls (PFAS), undersized sewers, faulty septic systems. , unaffordable water prices and limited local budgets.
This landmark investment includes a proposal combining federal dollars for the replacement of lead service lines in low-income communities ($ 102.1 million) with a bonding authority for water quality protection (290 million), a one-time vote from the General Fund for Drinking Water Infrastructure and Innovation ($ 105 million) and asset management grants ($ 2.9 million) to help communities develop , update and improve their plans for wastewater and stormwater.
The Drinking Water Asset Management (DWAM) grant is available to assist water supplies in the development or update of the asset management plan, and / or the distribution system material inventory such as defined in the Michigan Lead and Copper Rule.
The Affordability and Planning (AP) grant is available to any community water supply and local government unit, including counties, townships, towns, villages and others to help with planning and / or planning. pricing studies.
The Consolidation and Contamination Risk Reduction (C2R2) grant funds projects that remove or reduce PFAS or other contaminants, as defined by state or federal drinking water regulations, or efforts to consolidate systems or to connect private residential wells to a local municipal system.
Recently approved grants awarded under the DWAM, AP and C2R2 programs:
DWAM grants
Western Town Branch – $ 412,624
City of Buchanan – $ 68,370
Kaleva Village – $ 172,600
Lakeview Village – $ 185,225
City of Saint-Joseph – $ 439,765
Spring Lake Village – $ 18,000
Town of Taylor – $ 387,150
Town of Benton Harbor – $ 543,024
City of Mt. Morris – $ 32,170
AP Grants
Canton de Calumet Charter – $ 90,500
Canton de Marquette Charter – $ 39,500
Town of Benton Harbor – $ 168,500
Town of Bridgman – $ 127,900
Town of Center Line – $ 15,800 Town of Clawson – $ 10,000 Town of Mount Clemens – $ 15,800
Town of Roseville – $ 15,800
Village of Marcellus – $ 15,000 Village of Pewamo – $ 15,000
Township of Ishpeming – $ 17,500
C2R2 grants
City of Hartford – $ 2,970,800
Plainfield Charter Twp. – $ 4,380,665
City of Grand Rapids – $ 5,000,000
EGLE will summarize new MI Clean Water grants in press releases on a monthly basis.
[ad_2]