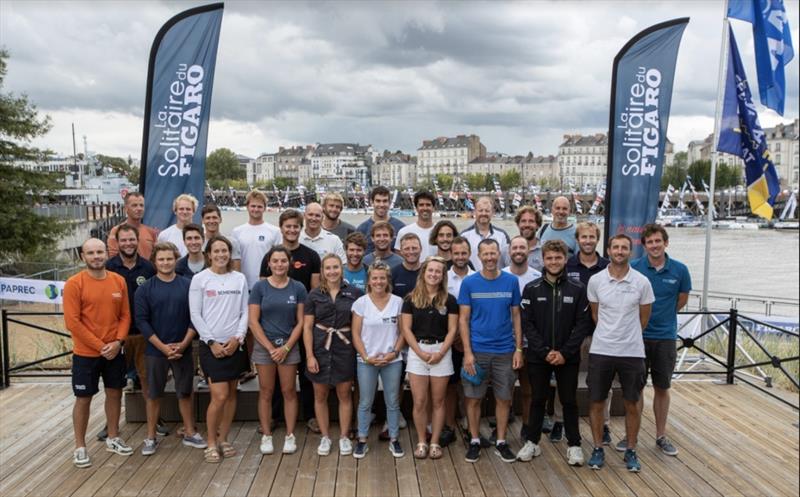 Young talents and great internationals shine at the 53rd edition of La Solitaire du Figaro
Young talents and great internationals shine at the 53rd edition of La Solitaire du Figaro
by La Solitaire du Figaro 20 August 06:03 UTC
August 21, 2022
The Solitaire du Figaro © Alexis Courcoux

True to its motto "Where legends are born", the 53rd edition of La Solitaire du Figaro will welcome a host of future stars. Even if certain sailors who have made France famous must now be so focused on their major projects – IMOCA 60s, Ultimes and Class40s – that there is no more capacity available to do La Solitaire every summer, the level of talent and the promise of being among the 34 men of La Solitaire's fleet is higher than ever.
This is partly explained by the fact that the level, competitiveness and working hours in French training centers are at a record level, directly attributable to the "Vendée Globe" effect. Interest in the quadrennial non-stop race around the world is so strong that there are legions of young French solo racers harboring realistic dreams of the Vendée Globe, training hard in these centers of excellence. And La Solitaire is de facto the essential learning and testing ground.

Start Sunday
After a week of festivities in Nantes, the host city, La Solitaire du Figaro 2002 starts Saint Michel Chef Chef at the gates of the Loire on Sunday August 21 at 3:40 p.m. local time. Reflecting the strong interest in La Solitaire among the 34 solo sailors, there are nine rookies, five women and ten international sailors.
This year again, there is no former winner in the general classification in a fleet which will compete over three long demanding legs, Nantes – Port-la-Forêt (644 miles), Port-la-Forêt – Royan (635 miles) and Royan – Saint-Nazaire (700 miles). The big favorite is Tom Laperche (Brittany Region – CMB Performance).
Today very close to François Gabart's understudy and co-skipper on his Ultime, Laperche, 25, finished third in 2021 and 2020. He currently leads the season championship of the French Elite Offshore Racing Championship and is considered a cut above its rivals. He seems capable of taking the right level of risk at the right time to win races. Laperche won all three solo races this season, the Solo Maître Coq, the Coupe Le Havre All Mer and the Solo Guy Cotten and finished third in the two-man Sardinha Cup.
Among the contenders for the podium should also be Loïs Berrehar (Skipper Macif 2021) stage winner in 2020 and winner of the 2022 BPGO Trophy and his cohort Macif Skipper Macif 2020 Erwan Le Draoulec. Or Gaston Morvan (Région Bretagne – CMB Espoir), who made his strong debut on the circuit last year by finishing 1st rookie and 7th overall in La Solitaire du Figaro. And Corentin Horeau (Mutuelle Bleue) also made a good start to the season after returning to 8th place last year after a five-year break.
Briton Alan Roberts (Seacat Services) and Irishman Tom Dolan (Smurfit Kappa-Kingspan) are capable and ready to step onto the podium. Roberts is entering his ninth La Solitaire du Figaro and has composed a solid run of solo results early in the season and Dolan is also regularly among the best of the group in racing in training, looking to improve on or equal his best fifth in the standings. general in 2020.
The Briton said: ""This year, I go thinking that I can win the race or finish on the podium. I will go out and sail by the weather rather than the fleet, my penchant is for the weather rather than the fleet. In a three-leg race like this, there will be more skippers competing on the final leg than a classic four-leg Solitaire. I think we'll see more people take more aggressive options."
And Dolan, known in France as the 'Flying Irishman', is in good spirits at Nantes despite some setbacks in early season racing. While Dolan is on his fifth Solitaire France, Fred Duthil (Le Journal des Entreprises) has already clocked up 12 Solitaire du Figaro. "I am really very attached to this race which really marked my career as a sailor from 2004 to 2013, it brings together everything I love: contact racing, one-design, mixing regatta and offshore, physical and psychological difficulties which force you to find your absolute limits", says the sailor who, as a sailor, has been running the Technique Voile sailmaker since 2016. He returned in 2020 and took second place overall. Today at 48 all he notices, "I no longer have the will to win at all costs. I go there to maintain myself at a good level, just by keeping my hand. It's good for my job. It allows me to have a good discussion with the riders and understand their needs."

Nine sailors pitch for the Bénéteau Rookie prize
Nine rookies this year reflect very diverse profiles, from former Olympic class riders to older skippers looking to test themselves. Just as Laperche is the clear favorite in the general classification, Guillaume Pirouelle (Normandy Region) stands out in the rookie fleet. He was one of the best French 420 and 470 riders, winning the Junior 470 Worlds as well as recently the Tour Voile with the Beijaflore team. He was Alexis Loison's understudy before returning to his boat. The 28-year-old pilot who races in Le Havre is third in the French Elite Offshore Racing Championship.
Pirouelle says: "My objective is the rookie ranking, but I want to do better than that. In the first races of the season, I didn't really know where to place myself. It's kind of the same here, except the stages are longer and you have to do three of them. This challenge is more difficult. I want to sail cleanly and be happy with my legs."
Other Rookie challengers include Basile Bourgnon (EDENRED) whose late father, Swiss sailor Laurent won the race in 1988 on his first attempt at the age of 22. Basile is the youngest competitor in this 2022 edition. Davy Beaudart, 37, has won most Mini 650 honors during his career and is Louis Burton's close friend and favorite co-skipper on the IMOCA Bureau Vallée but he is new to the Figaro class. Germany's Susann Beucke (The Race Is Female) is a silver medalist in the Tokyo 49er FX (see the German skippers article here) who is entering the Figaro class for what she considers a mid-range participation and long term at Le Figaro.

The Vivi Trophy… nine challengers
The 2022 edition also has a strong international accent with no less than ten foreigners registered, including former winners of the trophy which rewards the best non-French skipper in the general classification. Dolan and Roberts have shared the Vivi trophy each year but now the German Jörg Riechers (Alva Yachts) is back after a first participation in 2005; The Barcelonan Pep Costa (Team Play to B – Terravia) is in his second La Solitaire and the Swiss sailors Nils Palmieri (Teamwork), winner of the Transat 2021 with Julien Villion. Palmieri comments: "I had good results but I would like to go even further this year. I want to sail in my own way, with my style, my qualities and my faults, avoiding looking at what others are doing. finish the race telling myself that I was the best possible version of myself."

Five female skippers
And as in 2021, five women are taking part in La Solitaire du Figaro, including Buecke Violette Dorange (Devenir) and Elodie Bonafous (Quéguiner – La Vie en Rose). Tenth in the ranking of the season Figaro Bonafous declares: "It would be good for a woman to enter the Top 10 of this Solitaire."
Find out more at www.lasolitaire.com