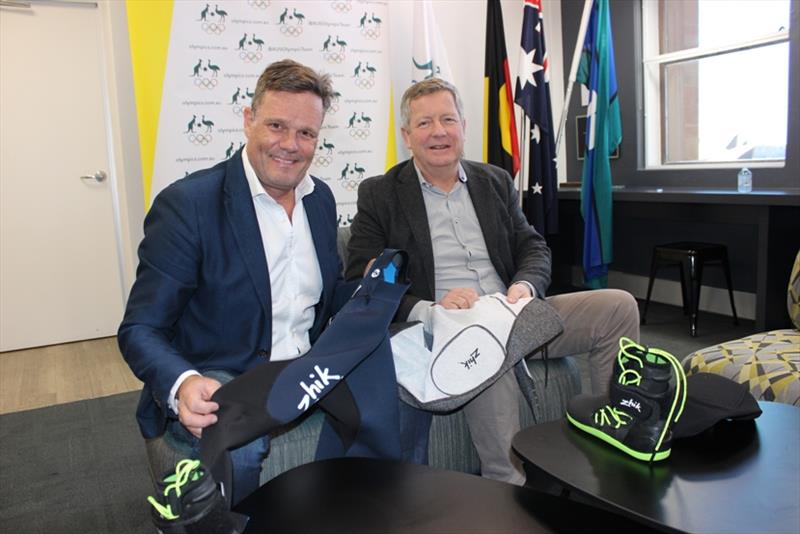 Zhik announced as official supplier to the Australian Olympic team
[ad_1]
Zhik announced as official supplier to the Australian Olympic team
by Liz Rushall, Zhik Jun 29 03:22 PDT

Piet Poelmann, CEO of Zhik and Matt Carroll, CEO of the Australian Olympic Committee © Beau Outteridge
Global technical sailing and watersports brand Zhik has been named the official supplier to the Australian Olympic team. The announcement follows the company's recent appointment as Australian Sailing's official apparel partner for the third consecutive Olympiad.
Since its founding in 2003, Zhik has worked closely with aspiring Olympic sailors to design the best technical clothing possible. This has led to official supplier associations with the Australian, Danish, British, Singaporean and New Zealand sailing teams as well as with many medal winning team sailors including Australians Tom Slingsby, Nathan Outteridge and Iain Jensen, Matt Belcher and Will Ryan and Tom Burton. .
AOC CEO Matt Carroll praised Zhik's commitment to supporting Australian Olympic athletes.
"We welcome Zhik to our prestigious lineup of official team partners and suppliers," said Mr. Carroll.
"Zhik's constant support of young athletes, from grassroots to world class level, helps them get the most out of their performance."
"Zhik is a dynamic brand grown in Australia at the forefront of performance watersports apparel and AOC is delighted that Zhik's innovative designs are a positive force for our sailing team at Tokyo 2020."
Zhik CEO Piet Poelmann said the company is very happy to become an official supplier after its long history with Australian Olympic sailors.
"We are delighted to be recognized as the Official Supplier to the Australian Olympic Team. The soul of our company is a foundational approach to pushing the boundaries of wearable technology in the same way that top athletes always look for. new ways to achieve their personal goal. better. "
"We work closely with them by listening and learning as we test our proprietary materials and designs to create cutting edge, high performance equipment to positively improve athlete performance. "
Zhik will provide the Australian Sailing Team with clothing including high performance lightweight suits and technical equipment (depending on the needs of the sailor and the boat) and will work closely with the athletes to develop the best products to help them in their quest for medals in Tokyo.
Tokyo 2020 Laser sailor Matt Wearn helped develop the new Zhik Microfleece Hikers and said he loved the design.
"They are versatile enough to navigate in all conditions, which makes them a great all-rounder."
"It was great to work with the Zhik team who are so invested in making the best water apparel."
In addition to Olympic sailing, Zhik's technical clothing line has grown to support high-end yachting, performance water sports as well as crossover leisure and lifestyle clothing.
www.zhik.com
#MadeForWater
Australian Olympic Sailing Team Athlete Information
Matt Wearn
Navigates in Laser class (single-handed dinghy)
Olympic debut in Tokyo
2020 and 2019 – 2nd place at the Men's Laser World Championship
Australian Male Sailor of the Year 2018
European Laser Champion 2018/19
4x National Laser Champion
Matt Wearn more info
Will Ryan and Mathew Belcher
Sail in the Mens 470 class (two-seater dinghy)
Mathew and Will won silver at the Rio 2016 Olympics
Mathew also won gold at the London 2012 Olympics in class 470 with former team member Malcolm Page
Mathew and Will are several world champions in the 470 class.

five times for Will
eight times for Mathew

Will Ryan more info
Mathew Belcher more info
Jake lilley
Sails in Finn class (single dinghy)
Olympic debut in Rio 2016 where he finished 8th
Sailing for Artemis Racing in the Americas Cup 2016
Jake Lilley More info
Jason Waterhouse and Lisa Darmanin
Sail in Foiling Nacra 17 mixed class (two-seater catamaran)
Jason and Lisa won silver at the Rio 2016 Olympics
Won gold at the 2009 ISAF World Junior Championships
Four podiums at the Nacra 17 World Championships (2nd in 2015, 3rd in 2020, 2019 and 2014)
Jason Waterhouse more info
Lisa Darmanin more info
Mara stransky
Sail in Laser Radial class (single-handed dinghy)
Olympic debut in Tokyo
The first international solo competition was the Laser Radial Youth Worlds in 2016
Arrived on the podium at the Laser Radial Worlds 2017 at the age of 18
Mara Stransky more info
Tess Lloyd and Jaime Ryan
Sail in the 49erFX class (two person single scull)
Jaime's Olympic debut took place at the Rio 2016 Olympic Games in the 470 women category
Tess to make Olympic debut in Tokyo
Tess suffered a serious head injury during the 2012 Australian Youth Championships in Brisbane. After 10 months of rehab, Tess was back on the water and working to qualify for the Olympics.
Tess Lloyd more info
Jaime Ryan more info
Monique de Vries and Nia Jerwood
Navigate the 470 class women (two-seater sailing dinghy for women)
Monique and Nia to make Olympic debut in Tokyo
In 2019, they finished ninth overall at the 470 World Championships, qualifying Australia for a place in Tokyo
2018 Nia won gold at 420 world championships
Nia Jerwood more info
Monique de Vries more info
Will Phillips and Sam Phillips
Sail in the 49er class (single scull for two people)
Olympic debut in Tokyo
Brothers who sail from a young age
Ranked 5th at the 2020 49er World Championships.
[ad_2]